Placement Policy
Placement Policy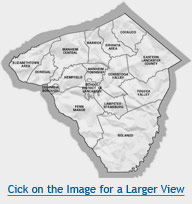 Millersville University is affiliated with the public school districts in Lancaster County. With their cooperation, the University is able to place student teachers within the elementary and secondary schools in the region. This responsibility rests solely with the University. Students may not, UNDER ANY CIRCUMSTANCES, contact school personnel to arrange their own placements. Please note that district personnel consider this to be unprofessional behavior, and that such contact may jeopardize your student teaching placement.  
Many factors influence a student's placement within a school.  These include the availability of a school district approved cooperating teacher, the appropriateness for the student's major, a student's prior field placements, the availability of a student teaching supervisor and more.  Professionals within the School of Education select the teaching sites believed to best continue students' professional development.
Millersville has Affiliation Agreements with particpating school districts and we must abide by the terms set forth in these agreements.  Teacher candidates (student teachers) must secure a criminal record check, a child abuse clearance and a FBI fingerprinting clearance, along with TB test results, that will cover them through the student teaching semester. 
The Student Teaching Office places students in a service area defined as approximately fifty miles from the University or depending on supervisor availability. In a limited number of instances, the University will make requests of school districts to secure placements outside of Lancaster County. There is no guarantee that by requesting such a placement, you will be able to be accommodated. Request for out of county placements that cannot be secured within a reasonable interval of time will result in the student being placed within Lancaster County or its evnirons.  While we try our best to accommodate out of county placements, students may experience greater driving distances. All placements are also contingent upon availability of a school-district-approved cooperating teacher, appropriateness for your major, your prior field placements, and the availability of a student teacher supervisor. Supervisor availability differs among departments.  Financial hardship does not constitute a compelling reason to alter a student teaching placement once a placement has been secured.
Student Teachers are expected to provide their own transportation for student teaching.
General Information Links