Maintenance
Power Outage
Power is coming back to much of campus, however, the Internet and Outlook servers are still out in parts of campus.  Classes are being held at professor's discretion.    PPL and Millersville University are working on the problem.
t_trussell
Dr.Timothy Trussell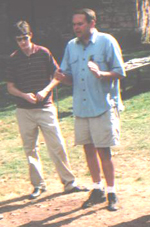 Additional Information
Assistant Professor of Anthropology
B.A., Oregon State University, 1991
M.A., Oregon State University, 1996
Ph.D., Texas A & M University, 2004
Research/Teaching Interests: Historical


Archaeology, Consumerism, Colonial American History, Historic Preservation.