MU Closed Wednesday
With the forecast of "a wintry mix changing to snow," Millersville University has decided to close the campus for Wednesday, November 26.  It is important to note that ALL classes will be held, as scheduled, the remainder of today and tonight.  Only essential personnel are to report on Wednesday. 
 Have a safe and enjoyable Thanksgiving.
Paul H. Slaugh, Jr. Entrepreneurship Program @ MU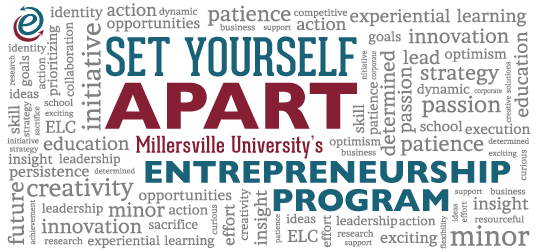 Slaugh Entrepreneurship Program
A collaboration between the Entrepreneurship Minor and the Entrepreneurial Leadership Center provide the resources, tools, and classes to help you pave the way to success.
Entrepreneurial Leadership Center
The Entrepreneurial Leadership Center is dedicated to the phenomenon of entrepreneurship, working to advance entrepreneurship education and training efforts and facilitate support of entrepreneurial endeavors both on campus and in the community.
Entrepreneurship Minor
Millersville University's new interdisciplinary minor in entrepreneurship allows students in any major to bring an entrepreneurial perspective to their specific area of study.