Department of Earth Sciences
Ocean Sciences & Coastal Studies
Highlights

Ocean Sciences and Coastal Studies (OSCS) majors David Burcicki, Sigourney Stelma, Jeff Rafach and Russell Cool at the Ocean Sciences Conference , Salt Lake City, Utah, 2012.
Students from the Field Methods class enjoy a break on the deck of RV Parker. Ocean Sciences and Coastal Studies (OSCS) majors are required to take field based classes (Like the one above) at the Marine Science Consortium (MSC) during summer.
Nate Murry, (Ocean Sciences and Coastal Studies), is involved in a collaborative project with the University of Delaware & The Gulf of Mexico Research Initiative to determine the dispersal patterns of oil spilled during the Deepwater Horizon accident. He supported a recent research cruise in the Gulf by providing real-time analysis of wind & current data collected by Lagrangian ocean drifters deployed during the cruise. He continues to participate in on-going processing & analysis of oceanic data obtained by the drifters as well as from commercial oil platforms, NOAA ADCP units & NDBC buoys by developing code in MATLAB to create time series plots & vector animations aimed at determining how spilled oil disperses about the Gulf of Mexico & the ocean basin as a whole.
Contact Us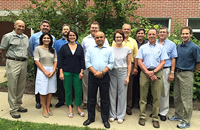 Department of Earth Science
717-871-4359
Millersville, PA 17551-0302