Department of Earth Sciences
Ocean Sciences & Coastal Studies
Highlights
Submersible Research Team
Members of the Submersible Research Team prepare to survey the Chincoteague Channel to study sediment transport in the area. Members include Geoinformatics graduate student Nathan Murry, undergraduate students from Ocean Sciences and Coastal Studies (OSCS) and Applied Engineering Science and Technology (AEST), Amanda Hardin and Michael P. Wiles. Dr. Joseph McCade (AEST) and Dr. Ajoy Kumar (OSCS) are the faculty advisors. The M3 sonar system used for the survey can be seen on the right side of the picture.
---
Research Experience for OSCS & Marine Biology Students.
Here, Melody Aleman is seen collecting water samples aboard the research vessel R/V FALKOR in the South China Sea. The study is part of a NSF funded program: A changing river: measuring nutrient fluxes to the South China Sea. Melody plans to do an undergrad thesis with data collected from this cruise under the supervision of Dr. Ajoy Kumar at Millersville University and Dr. Ajit Subramaniam from Columbia University, New York.
---
Student Poster Presentations in New Orleans
Ocean Sciences and Coastal Studies (OSCS) majors Cara Geiger and Angela Ditri at the Ocean Sciences Conference, New Orleans, Louisiana, 2016.
---
Student Opportunities
Students from the Submersible Research Team deploying the submersible "Dora" in the waters off Wallops Island.  The submersible is used as part of a program to study the marine life at the Black Fish Reef off Assateague Island National Seashore.
---
Undergraduate Opportunities
A study  by Marine Biology and Ocean Sciences and Coastal Studies (OSCS) students  to capture and tag sharks to determine if there is any seasonal pattern in abundance and species composition of sharks off Assateague Beach, VA. This study is led by PI Zoe Zenter and Co-PI's Benjamin Cox, Kamila Skiba, Matt Hamilton, Luke McConvile and  Ryan McGonagle. Faculty mentors are Dr. Dominique Didier (Marine Biology) and Dr. Ajoy Kumar (OSCS).
---
Contact Us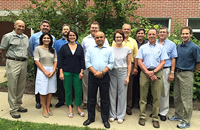 Department of Earth Science
717-871-4359
Millersville, PA 17551-0302