Department of Earth Sciences
Graduate Feedback
From Carrie Miller
Before I came to Millersville University, I believed that at college I would be nothing more than a number to my professors. I was surprised and pleased to learn that my advisor knew exactly who I was before I even arrived, and it wasn't long after that my other professors knew me by name as well. During my senior year at Millersville, I would run into professors that I had not had class with for two or three years who still knew me! Not only did my professors know my name, but they were also all willing to help me succeed at Millersville. Between office hours, phone calls and e-mail, I could always get questions answered or extra help understanding difficult concepts.
Many people asked me why I was going to Millersville - it was "small" and it seemed a little strange to be studying oceanography in a landlocked state. Neither of those things mattered however, and the size and lack of graduate students was an incredible benefit. Like many, many other students at Millersville, I was able to conduct an independent research project and present it at many conferences, including a national professional conference. Spending a few weeks in the summer at the Marine Science Consortium (MSC) field station in Wallops Island, VA was incredibly fun and educational. At the MSC I got to use research-grade equipment, interact with students and professors from other universities, and grow closer to my friends from Millersville.
I will always look back with fondness on my time at Millersville, and I would recommend it to anyone looking to go to college, especially for a degree in earth sciences. The faculty, staff and students at Millersville are friendly and helpful, the campus is beautiful, the extracurricular opportunities numerous and diverse, and the educational experience applicable and interesting.
Contact Us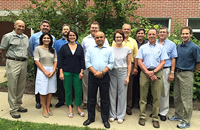 Department of Earth Science
717-871-4359
Millersville, PA 17551-0302