Student Profiles - Aaron Chu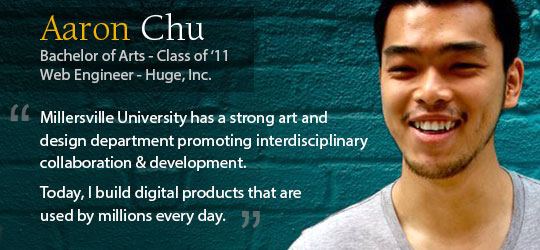 Aaron Chu
Class: 2011
Major: Art/Design
Hometown: Hong Kong, China
Where did you grow up?
I grew up in Hong Kong, China.
Why did you decide to study at Millersville University?
I heard many good things about the University while I was attending McCaskey High School.
What sets Millersville University apart from other colleges?
Millersville University has a very strong art and design department that promotes interdisciplinary collaboration and development.
What did you major in at Millersville?
I majored in art and design with a concentration in web design, graphic design and contemporary art.
What jobs, organizations and activities were you involved in at Millersville University?
I was the web manager for the art and design department. I was also commissioned to create a website and a sculpture for artist Michelle Ortiz and her mural in Millersville University's Student Memorial Center.
What was your senior thesis about? Why did you choose that topic?
As an art major, my thesis was about post-humanism with a focus on eco-industrialism. Inspired by my art history studies at the art and design department and my passions about technology, I was curious to learn more about the relationships between humans and technology, and to explore and reveal a more responsible way of living.
Art seems like a major part of your life. Who or what inspired you to get into art, web and graphic design?
Thank you for noticing. Yes, art and design are major parts of my life. Dr. Christine Filipone inspired my studies in modern and contemporary art history, which led me to develop a taste for modern designs.
What major skills do you think are essential in the field of art and design?
I think it is important for people in this field to be able to keep an open mind and to research and learn on their own. In the field of art and design, it is particularly important for one to be technologically inclined and be able to have one's own perspective and not blindly follow trends.
What are some of your biggest inspirations when it comes to your artwork?
Modernism, technology and ecology.
What is the best piece of advice you received during your time at Millersville University?
Step outside your comfort zone.
You currently work at Huge, a global advertising agency in Brooklyn. What does your job there involve?
I am a web engineer at Huge. I build digital products that are used by millions of people every day.
What other past work experience in web and graphic design do you have?
Before I joined Huge, I worked at the Museum of Modern Art in New York, where I helped the museum store create a new online shopping experience.
What made you decide to pursue your career in web design in New York City? What do you enjoy most about living in the city? What's one thing you could change about it?
I loved web design, but I did not have the ability to create web pages. I decided to learn how to program so that I can materialize my ideas with code. I live in Brooklyn and I really enjoy the similarities between Brooklyn and Lancaster. I also love the creativity that permeates throughout the city. If I could change one thing about the city for the better, it would be the subway.
You will be on campus on November 16 as a speaker at the Interdisciplinary Interaction Design Conference. What will you be speaking about?
I will be speaking about the career path I took to become a web engineer.
What are some of your favorite hobbies outside of art and web design?
I like to read about new technology and architecture. I also like to collect modern furniture and take care of my mini herb garden in my apartment.
Finish this sentence: "My life would be incomplete without…"
Chocolate and peanut butter Häagen-Dazs ice cream.