Student Profiles - Emily Cardone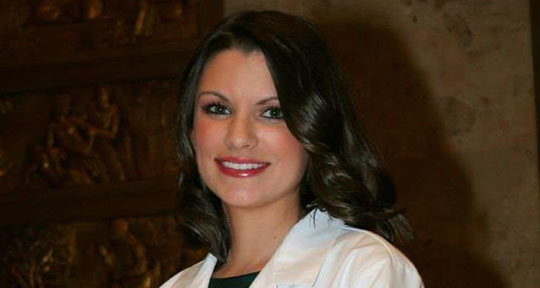 Emily Cardone
Class: 2015
Major: Biology, Concentration: Pre-Optometry
Hometown: Dunmore, Pa.
Why did you choose to attend Millersville?
My mother attended classes at Millersville, which sparked my interest to visit the campus. After discovering the 3+4 program for Optometry, my decision was easy. The beautiful scenic campus and location in Pennsylvania were added benefits to choosing to attend Millersville.
Are there any professors that stood out in particular during your time at MU?
Dr. Dominique Didier in the Biology department helped me tremendously as I prepared to enter graduate school and was one professor that I felt took the time to get to know her students.
Dr.  Sandra Turchi was my Biochemistry professor, and I had never felt so challenged or accomplished in a class before. She pushed her classes to think critically and apply years of concepts, while getting to know each of her lab sections personally.
Do you have a favorite spot on campus?
My favorite spot on campus is the pond. Each year I would sit and study, relax, or meet friends. The scenery and the animals really are a centerpiece for the campus.
When did you realize that you wanted to be an optometrist? What other fields have you considered?
Early in high school I watched a film about the eyes that intrigued me and drove me to look into the profession. Biology is the only subject I have ever considered and I consider myself extremely lucky to have found what I love to do so early in my life.
What interested you in the field of optometry to begin with?
My interest was sparked early by my entire family needing glasses and yearly visits to an OD. The thought of helping someone see more clearly or helping to diagnose a disease by examining the eye is exciting and rewarding.
Biology is often regarded as a difficult major, what was the hardest class you had to take?
I believe the most difficult class I took at Millersville was biochemistry. The class pushed every student to apply previous knowledge in chemistry and biology with new concepts to finish our education as undergraduates.
           
How does the pre-optometry program at MU and Salus University work? Are you still attending MU, or studying solely at Salus?
The program is a 3+4, meaning that three years of undergraduate classes are taken on campus at Millersville, then, if accepted during junior year, senior year is spent at the Pennsylvania College of Optometry at Salus University. The student will then transfer back credits after one year at Salus to walk in spring graduation at Millersville. I recently finished my second semester at Salus and graduated with my class from Millersville in May.
What are your plans, now that you graduated from Millersville? 
I will continue in my doctoral program for three years and graduate as an OD in 2018. I hope to move south and work in a group optometry practice.
What advice do you have to any undergrads hoping to get into optometry/Salus University's program?
I would tell them to come and visit the school and see what Salus has to offer. Pure interest in the profession will help your application stand out as well as being active as an undergraduate. Don't be afraid of the work and it will pay off. I highly recommend the 3+4 program to anyone interested.
What sets Millersville apart from other universities?
I believe that Millersville offers a quality education in a great location near farm lands and near the city life of Lancaster. The smaller campus and class sizes form a feeling of community that I have never felt anywhere else I have taken classes.
How do you think Millersville helped you succeed?
Millersville has provided me with the foundation and building blocks of my education. I was provided a safe and welcoming environment to learn, grow, and mature, as well as gaining job and leadership experience. The university gave me confidence to achieve my goal of entering graduate school a year early.
What are your hobbies/how do you spend your free time?
I enjoy photography, cooking, dancing and spending time with family and friends.
What do you miss most about your time at Millersville?
I miss being close to my friends and the activities and organizations I was involved in: Biology Club, Health Careers Club, University Activities Board, Expressions Dance, and I was a part time treasurer and had two jobs on Event Staff and working at the SMC ticket window. I was also a 2012 Orientation Leader.