Alumni Profile - Erin Berry
Erin Berry
Erin Berry, 21, graduated from Millersville University on May 7, 2016 with a B.A. in history and a minor in cultural anthropology. During her last semester, Erin was an intern at the Pennsylvania House of Representatives where she got to experience once-in-a-lifetime opportunities in her field of study.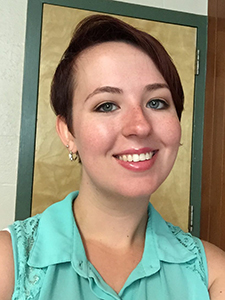 What made you want to study history?
When I was in high school, I ended up having the same history teacher for three years. He made learning history a lot of fun and showed me how important it is to never forget history. I actually thought about studying English, but as I was applying to Millersville I decided to join the history department. I am more than happy with the last minute decision that I made.
Why did you choose Millersville?
I loved how beautiful the campus was when I first visited. I thought that I would be very happy here, which was the most important aspect to me.
Are there any professors that stood out in particular during your time at MU?
All of the professors that I had were all extremely knowledgeable and helpful. But there were two professors that helped me immensely: Professor Spiese and Dr.  Frankum, in the history department. They both were an amazing influence. Without them, I would have never known about all the opportunities in public history or found my passion in archival management.
Do you have a favorite spot on campus?
I have always loved the pond. When I was a freshman, I lived in Gaige and I would always go to the pond to study. It is very beautiful there and a great place to hang out with friends.
Tell us about your internship with the Pennsylvania House of Representatives Archives.
I have learned so much more then I could have hoped for while working at the House Archives. The program is geared towards teaching students, not just about the collections and database that they use there, but archiving in general. There were also many once-in-a-lifetime workshops and activities, such as being introduced on the House Floor. I could not be happier with my time spent in this amazing program.
What is your involvement with Earth Day initiatives with the PA House of Representatives?
A project that the other archive intern and I worked on was a new display for the archives display case in the Capitals rotunda. The theme was "The House and the Environment", which showcased different events and policies that are associated with Earth Day and the environment in general. By using the archive's resources we found pictures, books, speeches and various resolutions to display. It will be displayed through all of April which is also the month Earth Day is celebrated. I really enjoyed this project because we could be as creative as we wanted and it was a good demonstration on how to organize materials and create labels for an exhibit.
How has your internship helped you become a better researcher?
One project that I worked on was creating biographies of past Representatives. I created five biographies on Tioga County Representatives from 1901-1921. In order to find all the possible information on people from so long ago, you have to know where to look. I learned about new databases and other various resources that can gather this information. I also had to be very thorough. This project gave me good practice and made me think creatively.

What can you tell us about the environment of working in a government office for other MU students that may be interested?
It can be a bit intimidating at first. There are a lot of people in the Capitol and there is a lot going on all the time. There is a huge system in place that is hard to keep straight. But there are some welcoming and amazingly intelligent people. During my internship, I met so many different people and learned so much from all of them. Though a government office can be hectic it is worth working at because there are so many people there that have different skills and knowledge that you can learn.
What is your role in compiling collections of Personal Papers?
I worked on two collections of Personal Papers while working for the House Archives, though the one that I worked on from scratch was the Papers of Kenneth E. Brandt (1961-2010). When a representative leaves office they can give as much, or as little, personal papers to the archives. Representative Brandt gave a second pile of papers and campaigning materials to the archives in 2015, which is what I went through and created a finding aid for. Working on this project was very rewarding because I felt that I was helping future researchers be able to use these resources.
What's next for you now that you've graduated?
Next September, I will be starting graduate school at University of Maryland, College Park in the Library Science program with a concentration in archival and digital curation. I'm very excited to take this next step in my education and further my path to becoming an archivist.