Student Profiles - Gina Masciantonio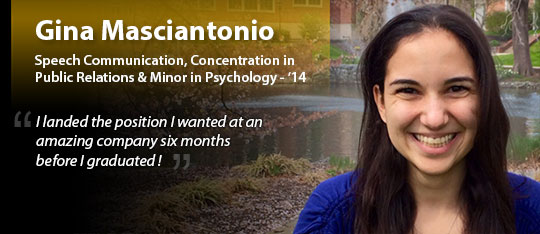 Gina Masciantonio
Class: 2014
Major: Speech communication with a concentration in public relations and a minor in psychology
Hometown: Dover, Del.
Why did you choose Millersville University?
Being an out-of-state student, Millersville University was an affordable college, in a great location with an amazing speech communication program.
Did you always want to be a communication major?
Yes! Although I did not get introduced to public relations until college, I always enjoyed reading and writing. Communications was a broad enough major where my career choice would not be limited but the major still gave me the skills I would need to succeed in the real world.
Why/how did you get interested in public relations?
My first semester in college I had declared my option in communication studies because I was still unsure of what area of communications I wanted to get into. My second week at Millersville, I was persuaded by the president of the Public Relations Student Society of America (PRSSA) chapter at the time to come to a meeting. After joining PRSSA for my first semester, I fell in love with the industry and knew it was where I wanted to be. I switched my option during my second semester to public relations and it was one of the best decisions I could have made.
Tell us about your involvement in PRSSA – the offices you held and how you grew the organization as its president.
I became a member of PRSSA my first semester in college and by second semester I was elected onto the executive board as secretary. Fall semester of my sophomore year I was elected to serve as vice president until spring semester of my junior year when I was elected as the president. During my time on the executive board, our chapter not only grew in numbers but our programming and fundraising efforts grew as well. We strengthened our relationship and network by organizing events such as a luncheon with PRSA and professionals in the area. We also helped organize the communication department alumni event. Our chapter brought in guest speakers, held resume/LinkedIn workshops, discussed how to practice ethical behavior in the industry and gained experience with event planning. This led to us being nationally recognized two years in a row as a Star Chapter, winning the PRSSA National FUNdraising Bowl in 2013 for our event Mr. Millersville and as president I received the National President's Citation from the PRSSA National office for my efforts on the chapter and national level.
As a member of PRSSA you were able to attend international conferences. Tell us how those experiences helped shape you.
During college I attended three PRSSA international conferences in Orlando, San Francisco and Philadelphia. The advice I received, the tools, resources, leadership skills and opportunities given to me and a network of some of the most influential people in the industry, is what led me to be so successful early on. They are also a lot of fun and some of my best memories I made in college!
You were involved with organizing Mr. Millersville. Why are events like this so important to the University?
The competitions Mr. Millersville (presented by PRSSA) and Miss. Millersville (presented by MUTV) are important because they raise money for all the campus organizations that are involved. They allow the opportunity for several campus organizations to work together and promote the diversity in each organization while putting on a great event for not only the University but for the community as well.
Tell us about internships that you held while a student.
In college I held five internships. I worked as a communications assistant at the University Communications and Marketing Office; I was a community outreach intern at Welsh Mountain Health Center; and I interned for the Leukemia & Lymphoma Society where I worked on the campaign Man & Woman of the Year. I also was a public relations and marketing intern at Bayhealth Medical Center and finally I interned at the Central Pa. Chapter of PRSA. I loved every single internship I had and gained so much experience that really helped prepare me for the real world.
How did your classes prepare you for your first job?
All my communication classes and professors contributed to preparing me for my first job in some way or another. Whether it was learning the correct way to write a resume and practice for an interview, learning tricks to help navigate Excel and PowerPoint or when I realized people actually use the acronym GOST (Goals, Objectives, Strategies, Tactics) in the real world and it wasn't just something my professors drilled in my head for fun. My professors were also a huge part in the connections I made that eventually led me to meeting my boss at an event on campus.
How lucky do you feel having a job before you graduated?
It still seems surreal that I landed the position I wanted six months before I graduated at an amazing company. Hard work really does pay off and I am very grateful!
Do you have a favorite spot on campus?
The campus is so beautiful especially in the springtime! I love going out by the pond on a nice day to catch up on homework or just relax.
Do you have any heroes?
My dad who has always been my biggest cheerleader and an inspiration to me. I look up to him tremendously and I don't know what I would do without him.
What is one piece of advice you'd like to give the students of Millersville?
Get involved on campus early on and get involved in as much as you can. The experiences outside of the classroom are what make your time in college so memorable!