Millersville University Student Profile - Jimmy Fowler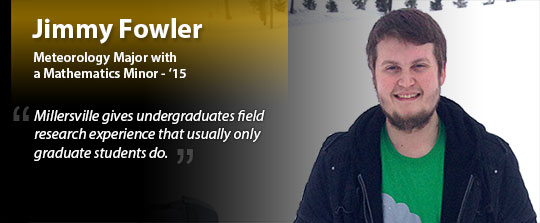 Jimmy Fowler
Class Year: 2015
Major: Meteorology major with a mathematics minor
Hometown: Southern Florida
Where are you originally from?
I've moved around quite a bit. I was born in southern Florida but quickly moved to Brooklyn. I lived there till I was about 5 before moving to Middletown, Del. It was quite a culture shock. My family has lived in Delaware till last year when my parents moved to North Carolina.
Why did you choose to attend Millersville?
When I was looking at colleges I had to look out of state since no colleges in Delaware had meteorology as a major. I looked into a couple colleges, such as SUNY Oneonta, Rutgers, Penn State and Millersville University. I got into all of the colleges I applied to so I really had to make an important choice. When I visited Millersville, I met with the professors and some of the current students to get their opinion of the school. I was always interested in the research aspect of meteorology and after talking to the professors and seeing their dedication to the students, I felt like I could get the most out of Millersville. I also loved the smaller feel to the school. I felt like the meteorology department felt more like a family than a bunch of students.
What organizations are you involved with on campus?
I am the vice president of the Millersville University Chapter of the American Meteorological Society (MU-AMS). As vice president, I am a chair of our community outreach so I help organize our members and go to school to teach children about the weather and help out with other University events. I also organize our Public Weather Awareness Day (PWAD) which hosts different professional vendors (such as AccuWeather, National Weather Service, WGAL) and student booths with weather experiments and crafts. I am also a lead forecaster for Millersville University's Campus Weather Service (CWS). Freshman year I got Community Emergency Response Team certified by the training classes held here on campus.
What originally piqued your interest in meteorology?
My dad grew up in the South and would always tell me stories of different hurricanes he experienced. Then in 1996 there was a massive blizzard in the Northeast and I was living in Brooklyn at the time. I remember being able to walk on top of my parents' car and being just amazed by the amount of snow. It was in that event I began to really take notice of the weather even though I was only 3.
When did you decide that you wanted to be a meteorologist?
During the 2005 hurricane season, which had the most amount of hurricanes in the Atlantic Ocean in recorded history, and I was in middle school. I was glued to the Weather Channel during every storm. I even memorized their schedule, when the National Hurricane Center released updates, and would even wake up in the middle of the night and turn on the Weather Channel. After listening to the tropical discussions, I realized that I could see myself doing that for a living.
What makes Millersville's meteorology program special?
One thing the makes Millersville's meteorology program special is that it is very well rounded. There are things here to help with forecasting (CWS), broadcast (WeatherWatch), and research. It was the research aspect that really makes it special to me. Millersville gives undergraduates the experience to do field research that usually only graduate students do. This past winter I was on a research project called OWLeS (Ontario Winter Lake-effect Systems) in upstate New York off the east shore of Lake Ontario. The focus of the project was about what effects topography, lake-to-lake connections, and other conditions affect lake effect snow. Millersville had about 23 undergraduate students on the project while there were barely any other undergraduates from the other colleges. Other head scientists would always be impressed that we have this opportunity as undergraduates.
What is the NCAR Undergraduate Leadership Workshop, and how were you selected to participate?
The NCAR (National Center for Atmospheric Research) Undergraduate Leadership Workshop consists of 20 undergraduates from 20 different universities that will visit NCAR for a week in June. While I am there, I will visit various labs that are a part of NCAR, meet with scientists and get mentored by them, learn about different paths that are in the atmospheric sciences, and also learn about how scientists can serve as leaders in the community. To get chosen for the Leadership Workshop, I was first elected by a professor. Then I wrote a short essay as to how I have been a leader and what I want to do in the future. NCAR goes through each student's application and selects 20 students to invite, one of whom was me.
What was your reaction upon hearing you were chosen?
I was ecstatic and could not believe that I was chosen.
What are you most excited for about the workshop?
I am really excited to meet other students from across the country that are also really passionate about the weather and see what their college experience has been.
How will the workshop benefit you, and how will it better Millersville University as a whole?
This is a great networking opportunity for me as I will be meeting with some very important scientists that may help me with my career later on. I will also get leadership advice from some of the leaders of the meteorological community. The leadership advice I get here I can bring back to Millersville to help MU-AMS and spread what I have learned to other students that will hopefully help Millersville as a whole.
Do you plan to attend graduate school? If so, where, and what degree will you be pursuing?
I am 100 percent committed into going into graduate school to get a master's and even a doctorate in meteorology. I am really interested in tropical meteorology so probably somewhere south, such as the University of Miami, Florida State or Texas A&M. I am also really interested in satellite meteorology, for which the University of Wisconsin has a great program.
If everything goes according to plan, where do you see yourself in five years?
Hopefully working on getting my doctorate degree and maybe teaching a few college courses. I think being a college professor would be great career since you get to spread your knowledge to future scientists while also getting funding for your research.
What interests, outside of meteorology do you have?
I love technology and understanding how it is changing over the years. I also love to golf and snowboard.
What is an interesting fact about you?
An interesting fact about me is that I have a tattoo on my right shoulder of a hurricane with a tattered and torn hurricane warning flag across it. I got it as a graduation present after high school.