Student Profiles - Rachel Wagner
Rachel Wagner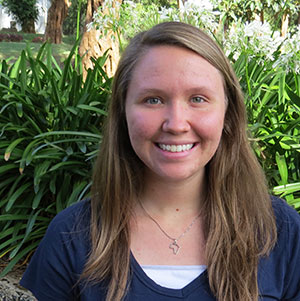 Class: 2017
Major: Social Work
Home Country: Kenya, Africa
What attracted you to Millersville University?
The location and the size. It's big enough that you see someone new every day, but small enough that you always see someone you know. It is also close to my extended family.
How has your childhood in Kenya impacted your educational experience in the United States?
My perspective on life and how to live tends to be really different than my peers and friends because I grew up in a completely different culture. This has brought about interesting discussions and has been a good thing, because it has challenged me to think a lot about my views and to value how others think. 
When did you discover a passion for social work?
I actually didn't really know what I wanted to do when I started college so I just started looking at majors that would let me do a variety of different things. Social work was one of those majors so that's what I chose to study. However, as I've taken social work classes my passion for social work has grown. I've seen the need and learned about the different ways that I can use my degree to help individuals and families.
Have you witnessed a need for someone with your training in Kenya?
I have, which is another thing that inspired me to become a social worker. Many of the needs in Kenya are the same as those in America, in terms of what a social worker would be needed for and what they would be doing.
Have you participated in any social work-related projects during your time in the country?
When I was living in Kenya, I was a student so that was my primary focus. As a student body we would go into the community a few times throughout the year and participate in service projects, but they weren't really social work related. They were more just projects that helped people we knew living in the community or other organizations in the community.
How do you stay involved on campus?
I live on campus, which helps a lot with staying involved. I'm a Resident Assistant, which keeps me busy with campus life and various activities that are happening on campus. I am also involved with Navigators, a campus ministry, where I'm on the leadership team and co-lead a girl's Bible study.
What makes your position as a Resident Assistant so rewarding?
Knowing that I've made a difference in the life of another student and the friendships that I've made through the job.
 
How do you manage such a busy schedule?
I'm a fairly organized person which helps a lot. But I also know where my priorities lie so that helps me with managing my time between academics, work and friends. I love to run so that's one thing I do when I'm stressed.
What professional and personal lessons will you take away from your college years?
One professional lesson that I've learned is that it's possible to have a good working relationship with someone even if your values really differ from theirs, but it takes a lot of intentionality and grace. One personal lesson that I've learned is that I can accomplish anything I put my mind to even if it seems impossible at the time.
 
What are your plans after graduation?
Hopefully to attend graduate school to get my master's degree in social work.
Explain your dream job.
I would love to live and work in the Middle East/North Africa. I want to study Arabic over there, so a job that involves that and my degree would be awesome.