Construction Management

Program Goals

The construction industry is vitally important to strengthening the nation's economy. According to the U.S. Census, data construction spending in January 2015 was more than $970 million, including all residential and non-residential construction in the public and private sectors.
Degrees/Minor
Bachelor of Science (B.S.)
Applied Engineering and Technology Management

The Construction Management concentration helps students develop the theoretical knowledge and leadership skills to pursue career opportunities in construction management such as scheduling assistant, compliance assistant, cost estimator assistant or safety coordinator. Courses included in this option provide an overview of computer-aided drafting and design (CAD/D), architectural design, construction methods, construction planning, construction scheduling, supervision, construction estimating and take-offs, and construction contracts.
Click here to view a typical 4-year program of study. This is provided for reference only. You will work closely with your advisor to determine the best way for you to complete your degree.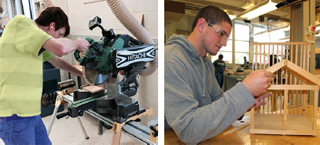 Associate of Technology (A.T.)
Applied Engineering and Technology (AET)
The Construction Technology concentration within this program provides students with both the theoretical knowledge and practical skills that are essential for careers in the construction technology. Courses included in this option provide experiences in computer-aided drafting and design (CAD/D), architectural design, materials and processes, and construction methods. All courses in this option include practical laboratory experiences and problem solving activities with the tools, materials, equipment and software that are fundamental to understanding the principles of construction technology.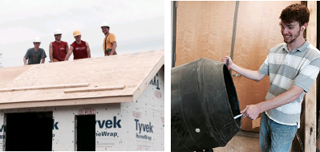 Minor in Construction Technology
Construction Technology minor students complete 18 credits of technical courses. Four of these are foundational classes in safety, materials processing, and computer-aided drafting & design. Students then select two technical courses focused specifically in construction technologies.
AETM Program Coordinator
Dr. Mark Snyder is the program coordinator for the Applied Engineering & Technology Management program. Please email Dr. Snyder if you have any questions about the AETM program, or if you would like more information.
His email address is Mark.Snyder@milllersville.edu.
Top Three Reasons
Top 3 Reasons to Choose Construction Management at Millersville U.
Construction careers incorporate a wide range of skills and challenge workers to think creatively and solve problems.
Construction employment is growing! The Bureau of Labor Statistics projects that employment will increase by 21.3% by 2022.
According to Associated General Contractors of America, Pennsylvania added 12,700 construction jobs during the past year.
Laboratory Facilities
In addition to work completed in the field, there are three separate facilities used in the Construction Management program. Specific facilities include:
Materials Processing Labs
Computer-Aided Drafting & Design
Research & Development
Construction Tech Grads May Become:
Project Manager
Cost Estimator
Project Coordinator
Safety Specialist
Field Engineer
Scheduler and Planner
Internship Opportunities
Construction Management internships combine the student's academic, technical and management preparation with actual on-the-job experiences in designing, building, and managing residential and commercial construction sites. In addition to the technical aspect, internships have a significant management component and students are required to engage in management-related activities such as planning, organizing, directing, and supervision at the workplace. Interns are required to complete 150 hours per each 3-credit internship. The student, the employer, and the Department of Applied Engineering, Safety & Technology faculty work cooperatively to assure the internship experience achieves the best possible learning value.