Nanofabrication Manufacturing
Nanofabrication Manufacturing

Program Goals
Nanotechnology is helping to considerably improve, even revolutionize, many technology and industry sectors: information technology, energy, environmental science, medicine, homeland security, food safety, and transportation,  among many others. Most benefits of nanotechnology depend on the fact that it is possible to tailor the essential structures of materials at the nanoscale to achieve specific properties, thus greatly extending the well-used toolkits of materials science. (Source: US National Nanotechnology Initiative, nano.gov)
Degrees/Minor
BACHELOR OF SCIENCE (B.S.)
Applied Engineering & Technology Management
The Applied Engineering and Technology Management (AETM) program prepares students for the forefront of technological innovation. Nanotechnology can be applied to nearly any industry, and therefore, there are abundant possibilities in where this degree can be used. As the demands for faster computers, tailored healthcare and energy efficiency increase, nanoscale science and engineering are more important than ever. A well-trained workforce will be critical to filling the need.
Students in Nanofabrication Manufacturing Technology complete 18 credits of technical courses in nanoscale science and engineering at Pennsylvania State University's Center for Nanotechnology Education and Utilization (CNEU). In this program, students work on a variety of projects in multi-million dollar facilities using cutting-edge equipment. The skills gained are directly transferable to industry and include cleanroom training and nanomaterials assessment and production, such as silicon processing, electron microscopy and other techniques for producing and analyzing nanoscale structures.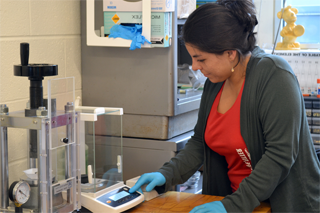 ASSOCIATE OF TECHNOLOGY (A.T.)
Applied Engineering & Technology
The Applied Engineering and Technology (AET) associate degree prepares students equally well for technical proficiency in modern nanofabrication manufacturing environments. The curriculum mirrors the AETM program, but does not include the same depth of business and management coursework. Transfer into the AETM program is seamless if desired later on.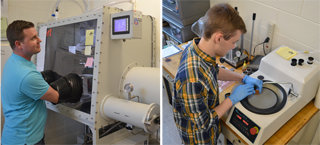 AETM Program Coordinator
Dr. Mark Snyder is the program coordinator for the Applied Engineering & Technology Management program. Please email Dr. Snyder if you have any questions about the AETM program, or if you would like more information.
His email address is Mark.Snyder@milllersville.edu.
Top Three Reasons
Top 3 Reasons to Choose Nanofabrication Manufacturing Technology at MU:
Extensive hands-on research opportunities
individual project funding and professional development available
Get a broad range of skills and experiences that make you highly employable
Laboratory Facilities
This program is supplemented by specialized facilities on Penn State's main campus. On-site laboratory facilities include a variety of specialized processing and characterization equipment realated to nanomaterials and the assessment of their properties. Specific competencies include:
Nanostructured Materials Lab
Chemical Vapor Disposition
Mechanical Alloying
Powder Consolidation
Inert Environment Processing
Materials Testing and Analysis
Metallography and Microscopy
Rockwell, Brinell and Microindentation
Mechanical Analysis in Tension, Compression and Cyclic Testing
NFMT Grads May Become:
Production Scientists
Quality Control Technician
Materials Research Technologist
Scanning Electron Micropist
Nanomaterials Research Associate
Cleanroom Technician
Microfabrication Technician
Engineering Technician
Failure Analysis Technician
Internship Opportunities
Nanofabrication Manufacturing Technology internships combine the student's academic, technical, and management preparation with actual on-the-job experiences ranging from custom piecework to high-volume operations. Internships involve a significant management component and students are required to engage in management-related activities such as planning, organizing, directing, and supervising at the workplace. The student, the employer, and the faculty work cooperatively to assure the internship experience achieves the best possible learning value.