29 + 2 = 7: GO TEECA!
TEECA @ MU Brings Home Seven Awards!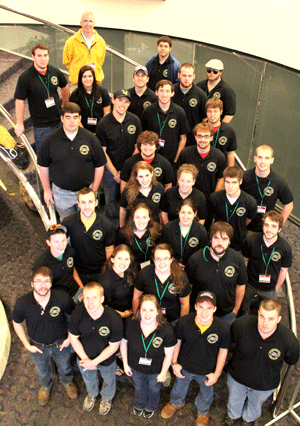 Twenty-nine members and two advisors of the Technology and Engineering Education Collegiate Association (TEECA @ MU) attended the TEECA Eastern Regional Conference in Virginia Beach November 11-13, 2012. The students competed in nine events and brought home seven awards. It was an excellent competition and a very fun trip for everyone, according to Dr. Sharon Brusic, club advisor. In addition to the competitive events, students had opportunities to attend a job fair and talk with recruiters, engage with peers from fourteen other Eastern seaboard universities, network with college faculty from other states, participate in a banquet, and much more. "We could not be more proud of the many contributions of all participants at the annual conference," says Dr. Brusic.
Congratulations go out to all members who competed in events and extra kudos go out to the following members who placed in their events.







TEECA @ MU members worked hard to place in these contests and represent Millersville University well at this professional conference. Next year's conference is November 10-12, 2013 in beautiful, sunny Virginia Beach.