Dr. Edward Rajaseelan
Inorganic Chemistry, Professor, Department Chair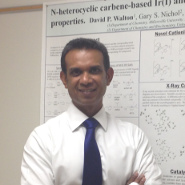 Office Hours
Comments: Office Hours

Education
B.S. - University of Peradeniya-Sri Lanka, 1981
Ph.D. - University of Arizona, 1989
Courses Taught
Chemistry! Better Things for Better Living (Chem 101)
Introductory Chemistry I and II (Chem 111 and 112)
Inorganic Chemistry I (Chem 251)
Advanced Laboratory II (Chem 392)
Advanced Inorganic Chemistry (Chem 452)
Course Materials
Research Interests
Dr. Rajaseelan's research interests are in the areas of synthetic inorganic, bio-inorganic, and organometallic chemistry. His research involves synthesis, characterization of transition metal complexes consisting of nitrogen oxides, N-heterocyclic carbenes, and chelating phosphines as ligands. These complexes have many potential uses as catalysts in green chemistry, organic synthesis, and in various industrial reactions.
About Dr. Edward Rajaseelan
Dr. Rajaseelan joined the Chemistry Department in August of 1990, following a year of teaching and research at St. Olaf College, Northfield, MN. He did his sabbatical research at Brown University, Providence, RI in 1997 on organometallic catalysts for industrially important hydrodesulfurization reactions, and at Yale University, New Haven, CT in 2005 on N- Heterocyclic Carbene Complexes, a new generation of catalysts in organic synthesis.Syllabus CHEM 110 Fall 2017
Professional Affiliations
American Chemical Society (ACS)
Recent Publications
Dinakar Gnanamgari, Audrey Moores, Edward Rajaseelan and Robert H. Crabtree, "Transfer hydrogenation of Imines and Alkenes Direct Reductive Amination of Aldehydes Catalyzed by Triazole- Derived Iridium(I) Carbene Complexes" Organometallics, 2007, 26, 1226-1230.