Summer Courses in Northern Ireland & Paris
Course Information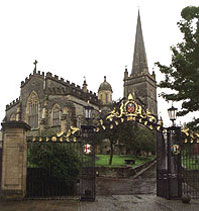 Northern Ireland
June 14 - 25, 2013
"Diversity and Conflict in the U.S. and Northern Ireland: Gender, Sexuality, Religion and Culture" 
3 cr.: EDFN 312, 511 or SOCY 320
Travel to Belfast, Donegal, Derry, & Portrush (Titanic Museum, Bloody Sunday tour, Giant's Causeway, Conflict Museum, Beaches, Integrated School, Castles, Mural tours, etc...)
$2395 (plus MU tuition) INCLUDES: airfare, in-country transportation, guest speakers, lodging, music & dance sessions, tours, entry fees, breakfasts and some additional meals.
Study abroad courses taught by Dr. Scott Richardson, contact for further info:  scott.richardson@millersville.edu
Paris
June 29 - July 18, 2013
Choose 2 courses from 17 offered!
Stay and learn in the heart of Paris (Saint-Germain district). Take excursions to Normandy, Versailles, and Monet's Garden at Giverny. Celebrate Bastille Day on July 14!
$3,995 (plus airfare)  INCLUDES: Six (6) credits, classes with students from other universities, lodging, whole group and special class based excursions, entry fees, breakfasts.
Study abroad courses taught by Dr. Scott Richardson, contact for further info:  scott.richardson@millersville.edu