MU Closed Today
Millersville University will be closed today, March 5, 2015, due to snow.
Millersville Atmospheric Boundary Layer Facility
MU Home >
Millersville Atmospheric Boundary Layer Facility
About the MABL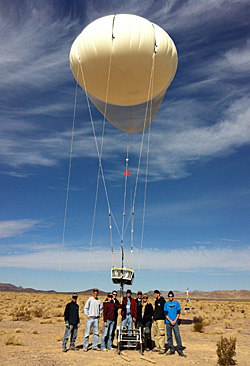 Millersville's Atmospheric Boundary Layer (MABL) Facility is a mobile lab that has been deployed to support several projects spanning coast to coast. Dr. Richard Clark, professor of Meteorology, is the lead researcher for MABL, however, several undergraduate students provide invaluable support both in conducting the field research and analyzing the data. MABL utilizes more than $1 million in equipment including Tethered balloon (met/chem/particles), Rawinsonde (GPS), MicropulseLiDAR(MPL4), MFAS Acoustic Sodar w/RASS, 10-meter flux tower, Surface trace gases, Surface aerosol scattering, among others. For more information contact Dr. Richard Clark (717-872-3930).
EQUIPMENT
Millersville University has assembled a suite of instruments and associated equipment in support of boundary layer (BL) and atmospheric chemistry (AC) research and research training. Click here to view a comprehensive listing (PDF).
PRESS
---