Giving back to our alma mater
Donor Profile: Class of 1962

Type of Gift: 50th reunion Gift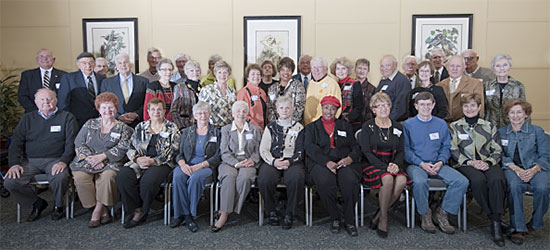 Reunion attendees
Front Row Left to Right: Howard Jones, Gail Morris Hinkle, Herta Rasch Clements, Elizabeth Allen Allwein, Katherine Koons Erdman, Marge Douros, Yvonne Lambert Toney, Kay Campbell, Gary Miller, Joyce Weaver Nolt, Margaret "Peg" Kriebel Weis

Back Row Left to Right: Randall Bauer, Joseph Glass, Don Erb, Tony Acri, Bill Goba, Kay Vandergrift, Frank Landrum, Carol Paydock Bitts, Helen Heisey Ferguson, Barbara Erwin Stumpf, Zaf Valudes Yelagotes, Rachel Noll, Francine McNairy, Bernie Santaniello, Jim Morgan, Dolores Rehrer Nelson, Penny Currie Santaniello, Frank Bergman, William McIlwaine, Ann Lineaweaver Bamford, Gary Bell, John Sanders, John Nied, Sue Drayer Breslin
What are the goals of the class reunion?

Class reunions help alumni to celebrate their Alma Mater and the friendships created by their Millersville University experience. Reunions allow the alumni to share their campus memories with friends and family, inspire each other to make generous financial contributions which support the University and also to connect with Millersville in such a way that they are enthusiastic about promoting the University to a wider audience.
What are some favorite memories of the members of the Class of 1962 are:
Playing bridge at the Rat Race (Kay Kauffman Campbell '62);
Dolphin Club (synchronized swimming) shows (Sylvia Hauer DeLozier '62);
Four winning seasons of football and talent shows (Anthony Di Pietro '62);
No electricity in Old Main dormitories after midnight, which necessitated using flash lights and wind-up alarm clocks. As a consequence, a group of us being reported by Housemother "Mrs. B" to Dean Fletty for studying in the lighted hallways after midnight (Joan Creveling Evans '62);
Meeting my wife of 50+ years and the fun times we had together (William Grove '62);
Roommates, friends and ice-skating on the lake (Margaret Hoffman '62).
What will be Class of 1962 gift support?

We decided to begin an endowed scholarship for a student entering their sophomore year, majoring in education who has achieved a GPA of 3.0 or greater and demonstrates financial need. The scholarship will be renewable for four additional semesters.
What is the purpose of the 50th reunion gift?

A reunion gift has been a tradition at Millersville since the early 1900's, when alumni returned to campus to celebrate milestones and give back to their alma mater. We wanted to follow tradition and help today's students get an education here just like we did.