MU Closed Today
Millersville University will be closed today, March 5, 2015, due to snow.
The 22nd Annual Conference
The 22nd Annual Conference
Pope Pius Xll and the Holocaust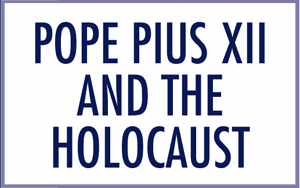 Millersville University of Pennsylvania
Gordinier Conference Center
April 14-15, 2002
Director: Dr. Jack Fischel
Co-Director: Dr. Tanya Kevorkian
Co-Director: Dr. Saulius Suziedelis
Co-Director: Dr. David Zubatsky
Click here to download the Conference Program
Patrons
Bash Jewelers, Inc
Mr. William W. Adams
Mr. Eric Berman
Mr. Michael Gleiberman
Dr. Reynold S. Koppel
Mr. Simon Lever
Mr. P. Alan Loss
Dr. Bruce H. Pokorney
Dr. Howard S. Robbins
Pennsylvania Humanities Council
Lancaster Jewish Federation
The 22nd Annual Conference is pleased to acknowledge the support of the Offices of the President and Provost.
Special thanks to Amnesty International, Millersville University Chapter.