Maintenance
Power Outage
Power is coming back to much of campus, however, Internet and Outlook service is spotty.  Classes are being held at professors' discretion.    PPL and Millersville University are working on the problem. Dining services reports Upper Deck has Continental style meals and North Side Bistro and Cove have full service. Marauder Express has breakfast sandwiches outside Gordinier.
Previous Conferences
Holocaust & Genocide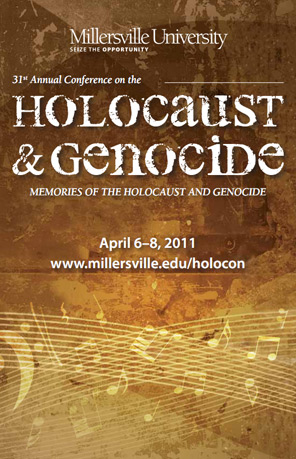 Millersville University of Pennsylvania
Gordinier Conference Center
April 14-16, 2010
Director: Victoria Khiterer
Committee Members: Onek Adyanga, Dennis Downey, Jack Fischel, Joshua Fischel, Tanya Kevorkia
Administrative Assistant: Margaret Eichler
Graduate Assistant: Terri Monserrat
Click here to download the Conference Program
Patrons
Mr. William W. Adams
Mr. William F. Bash
Mr. Eric Berman
Congregation Sharaai Shomayi
Dr. and Mrs. Clark R. Kaufman
Dr. Reynold S. Koppel
Lancaster Jewish Community Center
Mr. and Mrs. P. Alan Loss
Dr. Robert A. Matlin
Dr. Bruce H. Pokorney
Robert and Stephanie Zuckerman
Steven and Victoria Zuckerman
The 31st Annual conference is pleased to acknowledge the support of the offices of the President and Provost.
Special thanks to the Millersville University Student Ambassadors, Millersville University Phi Alpha Theta National History Honor Society, Honors College Student Association and Hillel Organization