Our Halls
Our Halls
Bard Hall
Coed, Smoke-free, Air-conditioned, Sprinklers, Mattress Size 36" x 80", Capacity 162 Students, Freshman Only


Dorm Tour Video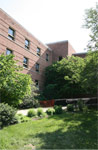 Diehm Hall
Coed, Carpeted, Smoke-free, Air-conditioned, Sprinklers, Mattress Size 36" x 80", Capacity 250 Students


Dorm Tour Video 
Gaige Hall
Freshmen Only; Coed, Carpeted, Smoke-free, Air-conditioned, Sprinklers, Mattress Size 36" x 80", Capacity 342 Students


Dorm Tour Video
Gilbert Hall
Coed, Smoke-free, Air-conditioned, Sprinklers, Mattress Size 36" x 80", Capacity 166 Students


Dorm Tour Video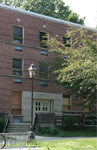 Harbold Hall
Freshmen Only; Coed, Carpeted, Smoke-free, Air-conditioned, Sprinklers, Mattress Size 36" x 80", Capacity 236 Students


Dorm Tour Video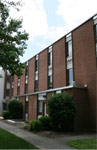 Hull Hall
Coed, Carpeted, Smoke-free, Air-conditioned, Sprinklers, Mattress Size 36" x 80", Capacity 212 Students


Dorm Tour Video 
Shenks Hall
Coed, Carpeted, Smoke-free, Air-conditioned, Sprinklers, Mattress Size 80" long twin except Suite B Double Rooms which have Standard Double Beds 54"x75", Capacity 202 Students
Reighard Hall
Coed, Carpeted, Smoke-free, Air-conditioned, Sprinklers, Mattress Size 54" x 75" except suite# 237 which has 80" single beds, Capacity 116 Students
South Side Suites
Coming Fall 2014!  Coed, Carpeted, Smoke-free, Air-conditioned, Sprinklers, Single and double
occupancy semi-suites and full suites, Private bathrooms, Capacity 709 Students
General Hall info
Coed by wings/floors
Capacity from 116 to 709 students
Approximately 2000 students live on campus
Four halls have elevators while several others are ADA first-floor accessible
Freshman Year Experience
Approximately 900 incoming freshmen students have the opportunity to explore the new and exciting world of college together. Bard, Gaige, Harbold Halls are comprised of undeclared, earth science, chemistry, physics, math, and sociology/anthropology majors.
On-campus Benefits
You'll meet new people and have opportunities for special events and activities.
Convenience. Computer labs, dining halls, local eateries, washers, dryers, snack and soda machines, and on-campus employment opportunities are nearby.
Shuttle bus service to all over campus and several nearby shopping centers.
Safety. The University Police operate an escort service from 11pm to 7am; peripheral doors are locked and entrance to all halls is by electronic card access