Audition Requirements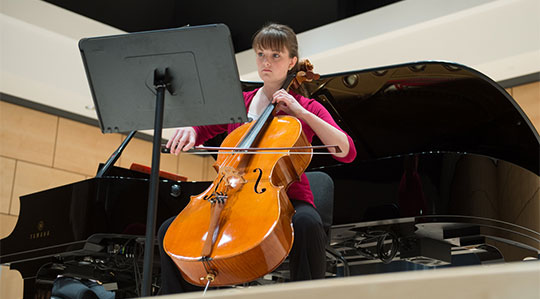 Audition Requirements: Majors and Minors
All applicants who wish to be a Millersville University Music Major or Minor must file a separate application to the Department of Music and schedule an audition for admission.
All music majors (Music, Music Education, and Music Business Technology) are required to complete four components:  Solo Performance, Vocal Assessment, Music Theory Exam, and Interview.
Music Minors are required to complete the Solo Performance, Vocal Assessment, and Music Theory Exam.  Minors do NOT have complete an Interview.
The audition day begins at 9:30 am on scheduled dates and concludes no later than 2:30 pm. Students may choose to participate in ensembles at 2:30pm (optional). Professional attire is expected and lunch is provided.
Current students and transfers will be completely excused from their university classes. High school students will receive an excuse note for their audition day.
IN THE EVENT OF INCLIMATE WEATHER:
If MU is open, we hold auditions.
If MU has a weather delay, we hold auditions beginning at the late start time and adjust the schedule as needed. 
If MU is closed, we cancel auditions. 
If students/parents are concerned about driving conditions, we allow them to reschedule (even if the date is full).
If you have not already done so, make sure to complete the university 
APPLICATION
, as we cannot accept students to our program who are not accepted by Millersville University.
Click on Each Degree listed below for Specific Requirements
FAQs
Parking passes

Student worker will be out front of the Winter Visual Performing Arts Center with parking passes at the circle drive. You must have a parking pass and you must park in white spaces ONLY. Students may direct you to the Prince Street Parking Garage.

What is there for parents to do?

We have Wifi, so if you would like to bring your laptops, there are quiet places around the building where we can direct you.
There is a Starbucks on campus in our library, as well as the University Store beside the Student Memorial Center.
If you would like to leave campus, Lancaster is only 10 minutes away and the outlets and the mall are only 15 minutes away.
Most parents/guardians stay in the building, but students are more than welcoming to guide you across campus and/or answer your questions.

Campus Tours

Admissions is available for tours at 2:30, but we do not schedule that for you. If you are interested, please click HERE

Ensembles

Ensemble participation at 2:30 is completely optional, but it is a good time for students to see their potential peers at work.

Auditions for Ensembles

These do NOT require the audition into the department
The conductor of the ensemble will list their requirements separately, it will be a different page on the website, and the requirements will be sent out to the entire university by the director at the beginning of each semester.

How do I get in contact with Music Admissions?

The best way to get in touch with the office consistantly is via email (music.admit@millersville.edu)
PLEASE NOTE that this office is entirely student run.
The best times to reach the office via telephone will be posted each semester.