Bachelor of Arts -Emphasis in Music Business & Technology
MU Home >
BA - Emphasis in Music Business & Technology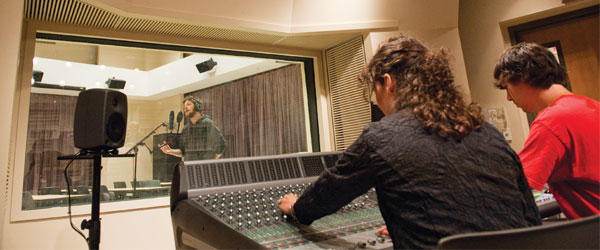 Bachelor of Arts - Emphasis in Music Business & Technology
Millersville University proudly offers a Bachelor of Arts in Music with an emphasis  in Music Business and Technology (MB&T). Millersville is the only school in the Pennsylvania State System of Higher Education (PASSHE) that offers music business, music recording, and performance opportunities within one-degree program.
Students in the MB&T program at Millersville participate in the Creative Campus program as performers, entrepreneurs and educators. Students will interact with visiting professionals, and participate in real-world projects, enabling them to be even more prepared upon graduation.
Classes
The music business and recording classes are project-based classes, which mix standard learning with hands-on experiences both inside and outside of the classroom. Our students will learn to use Pro Tools and the d-Control recording surface in our studios.
The MB&T curriculum maintains that our students are solid musicians and professionals when graduation day arrives.
Career Opportunities
Graduates from the MB&T program will have the option to seek a traditional job, become an active working musician or become an entrepreneur. Our students have been extremely successful when pursuing all of these areas.
---