4 Year Plan - MBT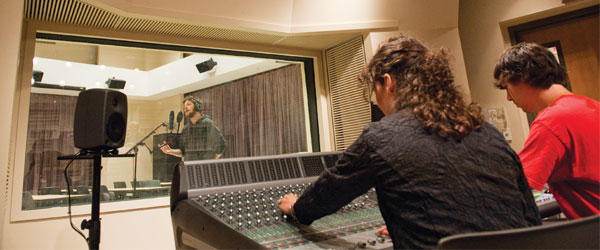 4 Year Plan - Music Business Technology
What's new and exciting with the MBT department??
WE OFFER TWO DIFFERENT FOCUSES:
Music Technology Courses
Computer Applications in Music Production I 
This introductory course is designed to develop an understanding of MIDI, sequencing, and digital audio through the integration of in-class demonstrations, lectures, and hands-on projects and activities. This course covers topics such as creating, recording and editing MIDI sequences and digital audio data. The course will also address topics such as programming, arranging, composing, and mixing in the MIDI environment.
Computer Applications in Music Production II 
This course covers recording, editing, mixing and producing music using professional digital audio software and hardware such as ProTools. Students will be utilizing tracks from real recording sessions to gain skills in those areas focusing on vocal, bass, guitar and drum edits and mixing parameters. Students will be required to complete numerous technical and creative projects, applying their skills learned in the digital audio environment.
Studio Recording I 
This is an intermediate level course in modern studio recording techniques. Subjects addressed include signal routing, microphone selection & placement, signal processing, session setup, mixing consoles, and live recording issues. Students will learn how to record and mix electric and acoustic guitars, bass, amps, and vocals. Students will be required to complete numerous technical and creative projects, applying their skills learned in the modern recording studio.
Studio Recording II 
This is an advanced course in modern studio recording techniques. Students will learn how to record and mix synthesizers, piano, drum set, percussion, and other acoustic instruments. Students will be required to complete numerous technical and creative projects, including recording Millersville University music ensembles and taking part in every facet of the recording process from booking the studio through mastering the final product.
Audio and Music for Video 
An introductory course into the world of audio & music for video, including film, television, and gaming. Covers topics such as the science and psychology of sound, sound editing, creating sound effects, recording voice-overs, and music synchronizations to picture. This project-based course is open to students who are interested in learning audio production skills as they relate to various mediums.
Synthesis and Sampling 
This is an advanced course focusing on the theory and operation of hardware & virtual synthesizers and digital audio samplers. Students learn how to identify and manipulate the various parameters of synthesis and sampling devices for compositions and live performances. In addition, advanced topics in sequencing and digital editing will be addressed.
Live Audio Production 
This course will explore the technology and techniques necessary to produce concerts in a variety of venues including those on and off campus. Students will take part in all facets of concert production as it relates to music including equipment options, signal flow, signal processing, mixing live shows, and live recording techniques.
Songwriting and Composition 
This course will explore the techniques necessary to write and produce commercial pop songs and scores for radio, film, commercials, and video games. Topics include melodic and harmonic development, song forms, lyric structures, orchestration, instrumentation, arranging, and demo production.
---
Music Business Courses
Introduction to Careers in Music 
Introduction to careers in music for prospective musicians and anyone interested in working in the music and entertainment business. Students learn basic terminology used in the field and are introduced to fundamentals of the music industry, copyright, royalties, contracts, and networking as well as guest lecturers. 
Music Industry 
Provides a comprehensive overview of the mainstream music industry and the for-profit world in music. Students choose the artist's track or the entrepreneur track and develop business plans and goals at the beginning of the semester that is built on the goals that the student wishes to pursue. 
Marketing and Promotion in the Music Industry 
Designed to give students a comprehensive understanding of marketing & promotion in the music industry. It will give insight into the marketing tactics employed by labels, concert promoters, distributors, independent agents, and artists in the marketplace. This course will provide the basis for developing an integrated marketing campaign that can be implemented and adapted into the current music marketplace.
International Music Industry 
This course will delve into the cultural, technological and financial components of the international music industry.   We will explore and analyze global trends, revenue streams, ethics and legal policy, marketing strategies, music consumption and distribution patterns, analytics/metrics, popular musical genres and the future of the music business in the United States, Canada, Europe, United Kingdom, Asia, Australia and Latin America.
Artist Management 
Artist Management is a focused examination, observation and participation class drawing on all of the facets of creating and operating an artist business model. The class will analyze the many facets of the modern music business and how it can be incorporated into practice. Students will be witness to the day to day operations of artists who record, tour, negotiate, survive and thrive. Students will participate In the discussions and decisions of the day to day operations of artists who are making recordings, marketing them either independently or in conjunction with a record label, touring, licensing music to film/TV, and all the functions of a recording and performance artist's career. 
History of the Recording Industry 
History of the Recording Industry analyzes the process from which the invention and implementation of various recording devices and formats have impacted the artists and its audience, the development of various styles of music, culture and the companies who built the foundation of the music industry.
Music Management Capstone I & II 
The capstone course spans the course of two-terms and is designed to apply core concepts in the music industry through an entrepreneurial approach by developing a business plan and launching a project into the real world.   The initial term begins with the study of the processes and procedures involved in launching entrepreneurial enterprises that monetize music industry-related intellectual property, products, and services.  The development of opportunity recognition, commercialization of intellectual property, use of distribution models and other resources to pursue entrepreneurial opportunities will be explored during this course.  Also, capitalization structures for new ventures within the music industry will be pursued through the development of a business plan.   During the second term, students will select a project to launch into the real world.   Students will work in teams and collaborate to execute the successful launch of a project and analyze the successes and failures experienced during the term.
What are the Requirements for a Degree from Millersville in Music Business Technology?