Millersville opens at 10 a.m.
Due to snowy conditions, Millersville University will open at 10 a.m. today, January 17. 
Minor in Music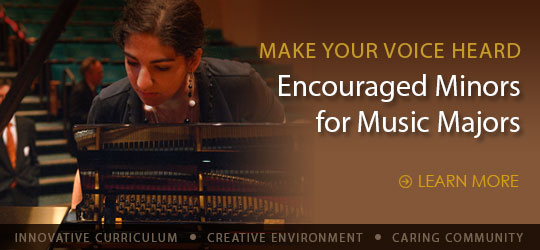 Minors
Minor in Music - 
Designed for students majoring in fields other than music who are interested in further developing their performance skills on an instrument or voice.
Courses, in addition to private lessons, are designed to reinforce the overall musical background of the student.
The Minor in Music is not intended as professional preparation for a career in music, but for personal enrichment.
Admission to the program is offered by audition to students with a strong musical background.
Music Minors take required and elective courses and receive many of the same benefits as music majors, including private instruction and opportunities for positions in Millersville University's top performing ensembles.

Encouraged Minors for Music Majors - 
Paul H. Slaugh Jr. Entrepreneurial Minor
Learn to identify resources and tools to translate opportunities into sustainable solutions.
Formulate business plans and develop ethical orientations to build informed decisions, strategies, and relationships.
Students complete a minimum of 18 credits, which includes an introductory seminar on entrepreneurial thinking, two core classes, a practicum, and a capstone course on business skills for entrepreneurs.

General Business Academic Minor
Complement your major through a minor that provides a solid foundation in general business.
Study concepts that can be applied to careers and advanced study in numerous fields.
Students complete a minimum of 18 credits, which includes courses in general business, two in accounting and one in management, marketing, and finance.