In The News
Intelligencer Journal/Lancaster New Era
New Millersville president sees greatness, challenges
BY ENELLY BETANCOURT, Staff Writer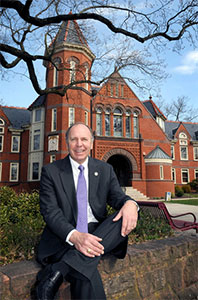 On a recent sunny morning, Millersville University's new president John Anderson was seen talking to prospective students near Biemsderfer Executive Center on campus.
Anderson greeted them with a smile and welcomed them to campus
"I wonder what would make them interested in Millersville?" Anderson asked.
Perhaps the same things that attracted him to the university.
"Walking around campus during a visit, I realized this was a great place, a great fit for me, and we could make some wonderful things happen here," he said with a smile.
"Everything has been reaffirmed since my arrival. It is always a good day at Millersville. There is a welcoming atmosphere, excellent faculty, staff, alumni and students, and it is in a great community," Anderson said.
And so the university's 14th president spent his first week on the job -- which began April 1 -- getting to know the ins and outs of the campus and the Lancaster community.
In a recent interview, Anderson said that decreasing state funding was the most pressing issue facing the university.
He also said he understands why some have expressed opposition to having Gov. Tom Corbett as commencement speaker, but that he welcomed the opportunity to meet the governor and speak with him.
And he predicted a bright future for the university.
Anderson, 61, succeeded Francine G. McNairy, who retired in January after 10 years as president.
Prior to his appointment, Anderson served as a teacher, administrator and, more recently, president of Alfred State College, Alfred, N.Y., beginning in 2008.
Anderson said he has an admiration and respect for public higher education and fully understands the sacrifices and hard work required to obtain a college education.
"I come from a humble background. I am the youngest of three children, and my parents did not have the money to send me to college," Anderson said. "If it wasn't for public higher education, I wouldn't be here today. I owe a lot to it."
Relaxed and personable -- just a few days into his new job -- Anderson spoke of his vision for the university and some of the challenges he will face, mainly on the financial side.
The most pressing problem, Anderson said, is the decreasing allocation of state funding to support higher education.
"Preserving access to high-quality education is definitely going to be a challenge," he said.
The new president noted that for Millersville students the challenge is directly connected to the issues the school faces.
As state funding has dwindled, the cost of higher education has shifted to the students and their families.
"We provide a good-value, high-quality education, but affordability is still a big deal for our students," Anderson said.
Of the campus community's discontent with Corbett being the commencement speaker, Anderson said he understands the feelings and the perspective of the faculty and students.
"I understand why they would get upset by having someone who reduced the funding to their institution. However, as president I look forward to any and all opportunities to catch the governor's ear, and what better day than a day of great celebration of success.
"I view this as an opportunity to meet the governor and to instill in him the importance of supporting higher education. I want it to at least open the door for me to visit him and have a conversation about funding for higher education," Anderson said.
He also spoke of the shift in student demographics.
"The overall reduction of the traditional student market should not be ignored. The number of nontraditional students has risen dramatically and is projected to continue," he said.
"We will do things differently in terms of how we will deliver our programs, and technology will dictate a lot of how it will be done," Anderson said.
That, he said, will mean a shift in the way content is shared.
"With technology, information is available wherever you are, so we will go from sharing content to putting it into context," Anderson said.
He quickly warned that any new university president has to be careful about bringing pre-conceived ideas of what the institution's vision should be.
"The vision can be very broad when you start off ... but as you go along, you begin to identify the university's areas of distinction. You need to understand the culture, resources and the challenges of the school first," he explained.
Anderson said he will expand on Millersville's foundation of excellence and collectively -- with the faculty, board and students -- craft a focused vision for the institution.
Millersville's future is bright, he said.
"I envision more partnerships with the private sector ... the creation of more win-win opportunities for all involved.
"I envision increasing the level of responsibility and civic engagement the students will have when they graduate.
"I envision a broader recognition of the excellence of the university across the country. We just need to get our story out to a larger audience," Anderson said.
What should never change about Millersville?
"I want to preserve what appears to me to be an excellent relationship between faculty and the administration. We'll always have some complaints … but there's real integrity and honesty between those two groups, and I will work hard to preserve that," he said.
Anderson has a proven record of success throughout his career. He has more than 20 years of senior-level administrative experience -- having served as a provost, vice president for institutional advancement and vice president of student services -- and 15 years as an instructor and professor of chemistry and physics.
His areas of expertise have evolved to include strategic planning, student civic engagement and sustainability.
Anderson has served as president of the Steering Committee for the American College and University Presidents' Climate Commitment. He has a doctorate. in education from Cornell University, a master's degree. in physics from SUNY Geneseo and a bachelor's degree in physics from SUNY Brockport.
On a personal level, Anderson said, he's a frustrated musician.
"Everyone needs a break every once in a while to just to let your mind relax. … Music is a way for me to do that," he said.
He has no formal musical training but loves to strum a guitar.
"I'm just not very good at it," Anderson noted with a chuckle.
He also loves the outdoors and enjoys riding his bike for long distances.
About 10 years ago he discovered a new form of relaxation -- fly fishing.
"It's a wonderful escape. It's tranquil and beautiful," he explained.
Anderson and his wife, Vivien, are the parents of two adult daughters.
ebetancourt@lnpnews.com
On the job since April 1, President John Anderson looks forward to showing off the university to Gov. Tom Corbett during graduation ceremonies in May despite decreasing funding from the state.
© 2004-2013 Lancaster Newspapers
PO Box 1328, Lancaster PA 17608, (717) 291-8811
Terms of Service Privacy Policy
---
Posted with permission from Lancaster Newspapers.