President's Report 2009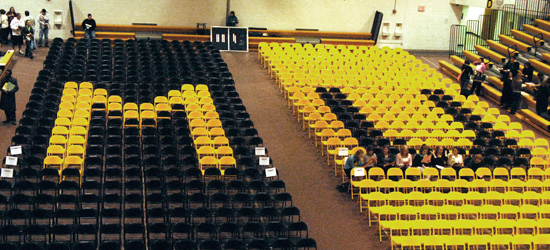 Technology
A new 10-year campus facilities master plan was adopted and focuses on, providing students a variety of housing choices and living/learning opportunities, improving campus visibility and identity, addressing traffic and parking issues, improving athletic and recreation facilities, and proposing improvements for a sustainable campus.
The new Admissions Welcome Center in Lyle Hall was open for prospective students and families visiting campus.
Stayer Hall became the home of the School of Education with additional parking created near the building.
Pucillo Gymnasium's roof was replaced, the floor was repainted and the air handling units were upgraded.
The newly renovated softball field was recognized as a 2009 Field of Distinction by the Keystone Athletic Field Managers Organization.
Construction began of major expansion and renovation to the Student Memorial Center, expected to be completed in 2011. Changes include expansion of the sports center and addition of a fitness center, basketball courts and elevated running track as well as renovations to the food court, student organization offices, and public areas.