President's Report 2009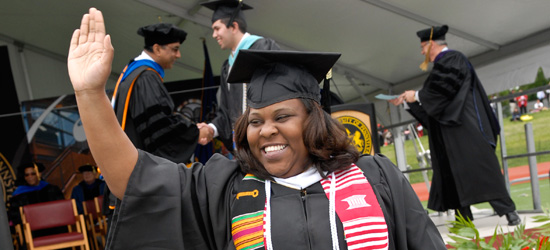 Students and Their Success
A group of Civil War re-enactors, led by two Millersville history students, marched back in time to raise money for a new roof in order to preserve the historic Haldeman Mansion in Bainbridge, Pa.
A Millersville student team won first place in the Society for the Advancement of Management international championship and was awarded the Joseph L. Bush Jr. Trophy. The five-student team, competing against 17 teams, presented a case study of how Las Vegas casinos can retain profitability during tough economic times while maintaining a competitive advantage.
The Millersville chapter of Students in Free Enterprise was awarded first runner up in the SIFE Regional competition, for team activities in providing ethics seminars to local businesses, financial literacy programs to students, and business counseling to aspiring entrepreneurs.
Six students from the music department were selected to participate in the Rodney Mack Big Brass Institute at the Curtis Institute of Music in Philadelphia where they studied with some of the best-known brass players in the world, including renowned musician Wynton Marsalis.
In March, the student chapter of the National Broadcasting Society was named the Chapter of the Year at the national convention in New York City.
For the second year in a row, the student chapter of the American Meteorology Society was named Chapter of the Year, the highest award it bestows, for accomplishments including outreach to local elementary and middle schools for weather education.
Millersville University meteorology students competed in "The Weather Challenge" and senior Shawn Gray took first place in a national weather forecasting contest.
Laura Ruiz Espelt '09 received one of only five national 2009 Merck Index Women in Chemistry Scholarship Awards.
Biology major Jill Ross '10 presented her research at the American Academy of Forensic Sciences meeting in Denver in February 2009 and made a presentation, "Entomological Applications in Wildlife Conservation Enforcement," at the International Veterinary Forensics Conference in Orlando in May 2009.
The Millersville chapter of the American Chemical Society received a Commendable Award for its activities, including student peer mentoring and sponsoring a series of field trips to local industries. The Millersville chapter has won the award for the past eight years.
The student radio station, WIXQ, celebrated its 40th anniversary.
Women's golf was added to the intercollegiate athletics program. There are now 22 teams of which 12 are women's teams.
The men's soccer team finished the season in 6th place in the national rankings and won the PSAC East championship; Coach Steve Widdowson earned National Soccer Coaches Association of America/Adidas Senior Men's College Atlantic Region Coach of the Year honors in addition to being named PSAC Coach of the Year.
Four-time All-American runner Priscilla Jennings earned national distinction in track and field and cross country and won top honors for her academic work with the PSAC Spring Top 10 Award.