Fostering an Appreciation of the Liberal Arts
Fostering an Appreciation of the Liberal Arts
The University continues to support a culture of free inquiry and self-reflective learning, in which the arts, humanities, sciences, and social sciences together help students to become thoughtful individuals who will never lose their passion for engaging new ideas. This liberal arts core, vigorously complemented with intensified study in the student's major, will be enriched by programs such as co-operative education, international student exchange, internships, and service-learning. We will continue to prepare students to succeed in the job market or to undertake further education. The knowledge, skills, and values students learn also provide them with the critical tools needed to adapt to the new challenges in our age of rapid technological change, preparing them to accept increasing levels of career, civic and social responsibility.
University Success
The MU Software Productization Center partnered with a regional company, Haydenfilms (pictured right), as part of the Center's fourth year of grant funding. Annually, the Center partners with a local business to develop and prepare to market an idea that will grow the company through the collaborative efforts of Millersville University students and faculty.
More than 3,700 students performed 134,000 hours of service learning through University-sponsored experiences, departmental internships and extensive co-curricular programming. According to Independent Sector the value of this service to the local community was estimated at approximately $2.9 million. Student engagement in internships at nonprofit organizations contributed to more than 25 percent of the service learning hours, valued at more than $780,000.
Millersville University partner Catholic University of Valparaiso (PUCV), Chile, agreed to include its new introductory level Spanish/South American Studies program under the current MU-PUCV exchange agreement framework. The expansion of the current MU-PUCV agreement to cover this program meets student interest, eases the pre-departure process and maintains the same cost of participation as attending Millersville.
Queen's University Belfast (QUB), Northern Ireland, signed a new partnership agreement with Millersville University. QUB is a top ranked academic institution in the United Kingdom and Northern Ireland and will meet the University's strong demand for Irish-based programs.
The College of Graduate & Professional Studies continued to expand offerings off campus and in nontraditional formats for educators across the region. In fall 2011, there were four off-campus cohorts running at various partner locations: an M.Ed. in Language and Literacy at Dover Area School District, M.Ed. in Language and Literacy at Conrad Weiser School District, M.Ed. in Special Education at the Dixon Center; and ESL Certification at Harrisburg Area Community College's York Campus.  Additionally, the college provided professional development opportunities to more than 650 educators in summer 2012 through graduate institutes and educator workshops, delivered on-campus, at off-site partner locations, and via distance learning.
Faculty and Staff Success
Dr. Marco Antolin, foreign languages, gave two invited lectures on Spanish-American poetry: "Efectos literarios de la traducción de César Vallejo en los Estados Unidos," at the X International Congress of Hispanic Literature in San Juan, Puerto Rico; and "Memoria, simbología y fragmentación en la poesía de Julia Piera" at the XXXI International congress of ALDEEU (Spanish Professionals in America) in Ithaca, N.Y. He also had his article "El valor de la autenticidad y la virtud de la paciencia: La presencia de Antonio Machado en la poesía de Philip Levine" published by Crítica Hispánica.
Drs. Enyang Guo and Gary Leinberger, accounting and finance, won a Silver Wheaton Best Paper Awards in International Finance for their paper "Firm Growth and Financial Choices in Pennsylvania Firms - An Empirical Study about the Pecking Order Theory" at the September 2011 Applied Financial Research Conference in Atlantic City, N.J.
James Pannafino, art & design, presented at the International Visual Literacy Association Conference on the topic "Common College Sense: Soft Narrative and Instructional Design," which covered various common-sense scenarios, the role of visual function and the power of narrative within the context of a graphic design course.
Faculty in the arts gave 175 creative performances or recitals and had their work shown in four exhibitions or solo shows.
Program Success
Millersville University's Civic and Community Engagement and Research Project (CCERP) awarded Distinguished Civic Leader Awards to Tabor Community Services; Community Action Program of Lancaster County; Joe Vulopas, founder of AEVIDUM, a suicide prevention group for teens and young adults; Ashley Christman, Millersville University student with leadership roles in the Boy and Girl Scouts of America; Dr. Kimberly Mahaffey, Latino studies, for her work on the "We Belong" mural project in Lancaster; Dr. Stacey Irwin, communication and theatre, for her creation of "Project Green Lancaster"; Dr. Melvin Allen, founder and director emeritus of CCERP, received the lifetime achievement award for his work with Project Forward Leap and CCERP; and "Auntie" Anne Beiler, of Auntie Anne's, who received an award based on her national and international community contributions.
A new mentoring program, between Millersville University social work majors and 10th-grade students from Penn Manor High School, began with the start of the 2011-2012 school year. On a weekly basis, Millersville students provide the high school students a connection that aims to increase their school engagement, attendance and to improve their grades (pictured below).


More than 20 faculty and staff participated in the United Way of Lancaster County's Day of Caring program, providing service to 10 community projects and organizations. Seventy students participated in Into the Streets (pictured top), providing service to seven community agencies. Volunteer Central conducted a food drive, as well as participated in events on campus and in the community, as part of a community coalition for National Hunger and Homelessness Awareness Week.
Millersville University marketing students joined forces with the Lancaster County Clean Water Consortium, an organization with a mission to improve Lancaster stream water quality, to share with county residents the values and importance of clean streams. The collaboration offered faculty and students the opportunity to participate in the service-learning efforts.
Educational programming continues to take place in the residence halls. To date, a total of 1,107 programs, covering a wide number of offerings, have been sponsored by Housing and Residential Programs.  Once again a focus this year has been on involving faculty in the halls for educational programming.  So far a total of 44 faculty-led programs have been accomplished.
Student Success
During 2011-12, students contributed approximately 75,000 hours of volunteer activities.
Students in the School of Humanities and Social Sciences completed nearly 69,000 hours of service learning, and more than 250 students engaged in community-based research during 2011-12.
Nineteen School of Science and Mathematics students completed co-op experiences, and 20 students were selected for internships with various agencies.
Kyle D. Haney, a senior sociology major and criminology minor, worked for the Pa. Department of Environmental Protection as part of a 15-week internship sponsored by the State System. He was one of 14 students participating in The Harrisburg Internship Semester program, which provides students the opportunity to work in all areas of state government while earning a full semester's credits.
Monica Krausz, a senior meteorology student, was the 2011 Summer Weather Camp director at the Weather Research Center in Houston, Texas. The camp's goal is to prepare participating children for extreme weather events. Ms. Krausz facilitated interactive projects, provided tours at the Weather Museum and taught the campers fundamental weather information.
Millersville University sophomore Noah Morris, a dual anthropology and art and design major and self-proclaimed antiquarian, explored the use of hand tools and techniques used by early people to create three wooden sculptures, part of a six-month independent study.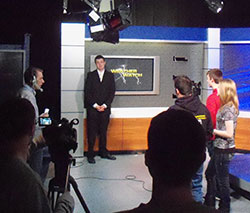 Meteorology majors, leaning toward a career in broadcasting, can now work in collaboration with MUTV-99, Millersville's student-run TV station, thanks to Weather Watch (pictured right), a new project where students learn how to create, edit and produce episodes about how weather impacts our society.
Senior meteorology major Joseph Moore was the recipient of the National Oceanic and Atmospheric Administration Student Career Experiences Program (SCEP) Award. The SCEP is a planned, progressive educational program that provides for the integration of a student's academic studies and federal work experience.
Ryan Consylman, Edward Kimmel and Wayne Treible received National Institute of Standards and Technology Research Fellowships for summer 2012.
Students in the arts made 71 creative performances or recitals and had their work shown in 72 exhibitions or solo shows.
In conjunction with National Music In Our Schools Month®, Music For Everyone (MFE), a local nonprofit organization dedicated to cultivating the power of music as an educational and community building tool in Lancaster County, recognized the 2012 MFE Scholars. Paula Batdor and David Mengel, both students of Millersville University's music education program, were selected to receive $2,500 scholarships funded by MFE.