Nurturing a Passion for Learning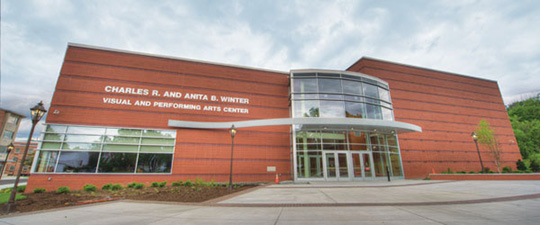 Nurturing a Passion for Learning
Millersville University's commitment to programs of national distinction envisions an environment in which faculty and students are passionate about learning and in which free inquiry is guaranteed. Faculty scholarship and research expand the frontiers of knowledge, and the insights gained through these endeavors will enhance teaching and enrich student learning. We will continue to develop innovative programs to initiate students into the college experience and to stimulate their passion for learning through intense engagement with faculty and fellow students. Students sharing in faculty research and participating in programs that apply classroom lessons to community needs will be prepared to become life-long, self-actuated learners. Small class size, personalized instruction, and effective support services will be hallmarks of the Millersville experience.
University Success
Millersville University was awarded a $1.2 million grant from the National Science Foundation, entitled "Increasing the Quality and Quantity of Mathematics Teachers for High-Need Districts." The grant will fund the mathematics department's Noyce Scholars program. Approximately 84 percent of the funds will go directly to scholarships for mathematics education students.
Millersville University completed construction of the Winter Visual and Performing Arts Center. The new facility features performance venues, art gallery, rehearsal space, classrooms, a state-of-the-art multi-track recording studio, digital piano lab, scene shop and new theatrical lighting and sound systems that will be used to educate the next generation of majors and minors in art & design, music and theater. 
A collection of approximately 300-400 butterflies, most dating back more than 100 years, was donated to the University's Entomological Museum by Millersville alumnus Dennis Remley '71. The collection, which will serve as a learning tool for faculty and students, is partially on display on the first floor of Caputo Hall.
Millersville University entered into an agreement with Lake Erie College of Osteopathic Medicine to offer early acceptance for students pursuing a doctorate in the field of osteopathic medicine, dentistry or pharmacy.
The School of Science and Mathematics renewed its prior "3+2" cooperative engineering academic affiliation agreement with Penn State University.  The agreement allows students to transfer after three years at Millersville to study engineering. At the end of five years, students receive both a bachelor of arts degree in physics from Millersville and a bachelor of science degree in engineering from Penn State.
The Ware Center, in downtown Lancaster, has emerged as a thriving academic center, serving 997 students (725 undergraduate and 272 graduate) in fall 2011.  Course offerings span 16 academic departments, and comprise a schedule of 54 fall 2011 courses (35 undergraduate and 19 graduate sections).    The Ware Center faculty and students benefitted from upgraded classroom technology, new classroom furniture and several remodeled classrooms.
The 27th Annual Brossman Science Lectureship attracted approximately 950 elementary, middle school and high school students, as well as members of the community, to two presentations by marine biologist and deep-sea explorer Dr. Edith Widder. Dr. Widder spoke on the topic "Exploring and Protecting Planet Ocean," and shared details on her work studying bioluminescence.
In concert with the Student Senate, Student Affairs initiated an organizational tracking program to encourage students to become more engaged in campus organizations.  With the purchase of new software, Collegiate Link, students will be better able to demonstrate a record of their co-curricular activities to potential employers and graduate schools.
Student wellness initiatives included the Counseling Center's annual Anxiety Screening Day, where 85 students were screened for anxiety and depression; the Elsie S. Shenk Wellness and Women's Center Empower Peer Educators facilitating 14 educational workshops focusing on health and well-being this year and reaching more than 1,100 students with educational messaging; Health Services' collaboration with the Wellness and Women's Center and the Department of Nursing to improve breast health awareness, an initiative funded by a $10,000 gift; and the social norms campaign, Stand Un-Branded, addressing high-risk behaviors among college students to combat the myths about excessive drinking that "everybody drinks and gets drunk."  Each year the Alcohol and Other Drugs Coalition, along with the Wellness and Women's Center, engage Peer Health Educators in a campus-wide campaign to increase student health and safety. This year it was part of the $500,000 System-wide grant to combat high-risk drinking.
Faculty and Staff Success
More than 70 grant proposals were submitted in 2011-12 totaling $22.2 million; 39 were funded, for $3.7 million, an increase of $600,000 over the previous year.
Millersville faculty members held more than 150 leadership positions in their academic and professional organizations and served in more than 40 editorships. Faculty received 35 honors and awards in 2011-2012.
School of Education faculty published four books, gave 127 scholarly presentations and papers at regional, national and international conferences, and contributed to 150 seminars or professional association group activities. They also offered 47 learning services courses and engaged in 71 consulting activities.
School of Humanities and Social Sciences faculty published nine books, 39 articles and presented 76 papers at regional, national and international conferences. They crafted 29 creative works and participated in 56 professional or association seminars or meetings. Seventeen faculty engaged in community-based research, and 30 faculty members served as officers of professional organizations or on community boards. Additionally, the school hosted more than 10 scholars-in-residence and 34 artists-in-residence.
School of Science and Mathematics faculty published three books, 41 articles, presented more than 80 papers at professional meetings, and attended more than 107 professional conferences or seminars.
Dr. Robert Bookmiller, government & political affairs, had his article, "Canada, Iran and 'Controlled Engagement': A New Start with Afghanistan?" published in the recent issue of Canadian Foreign Policy, Canada's leading international affairs journal.
Dr. Jean Boal, biology, participated in an international conference entitled "Behavior 2011," a joint conference of the Animal Behavior Society and the International Ethological Conference, where she served as co-convener of a symposium entitled "Perinatal Influences on Behavior"; co-authored a paper titled "Prenatal Embryonic Learning: Evidence from the Cuttlefish, Sepia officinalis," and presented a poster, co-authored by Robert Walderop '10M, entitled "Evidence for Sleep in the Common Cuttlefish, Sepia officinalis." 
Dr. Ron Umble, mathematics, and former post-baccalaureate student Matthew Kirby, published a paper in the October 2011 issue of Mathematics Magazine entitled "Edge Tessellations and Stamp Folding Puzzles." The main result of this paper was discovered by Millersville students Andrew Hall, Matthew Kirby and Joshua York during a research seminar directed by Dr. Umble in the spring of 2009. In addition, Umble was a plenary speaker at the International Conference on Modern Algebra and its Applications, held at the Batumi State University in the Republic of Georgia. 
Dr. Dominique Didier, biology, discovered two new species of fish during a two-week trip to New Zealand to study chimaeroid fishes. The work was funded by the National Museum of New Zealand Te papa Tongarewa, and a "Tree of Life" grant provided to Dr. Didier by the National Science Foundation (pictured left, Dr. James Cosentino, Biology with Dr. Dominique Didier).
Dr. Richard Clark, earth sciences, led a major student-faculty research project.  He and seven undergraduate students traveled to the Mojave Desert to measure the concentration and size distribution of dust and other particulates in the lower atmosphere as part of a project funded by the Defense Advanced Research Projects Agency.
Dr. Daniel O'Neill, counseling and human development, co-presented "Data is the Lesson, Experience is the Teacher: Keys to Building a Successful FYE Program" and "Engaging First-Year Students in Crucial Conversations at Orientation," and one roundtable "Weathering the Storm: These Times They Are A Changing" with faculty colleagues at the 31st Annual Conference on the First Year Experience in San Antonio, Texas.
Professional development opportunities for Health Services staff included: Dr. Susan Northwall attending the American College of Osteopathic Physicians conference; Jenny Monn, attending the National Pharmaceutical Association conference, and Anne Pryzbylkowski attending the PrimeMed conference.  Joanne Ocasio attended the Mid-Atlantic College Health Association conference and completed Level I of MU's Certified Public Manager Program.
Program Success
The Council of Trustees approved a new interdisciplinary minor in entrepreneurship, the only minor of its kind in PASSHE, which will allow students, regardless of major, to bring an entrepreneurial prospective to their specific area of study. The Entrepreneurial Leadership Center, established in 2009, laid the groundwork for the creation of this new minor at the University.
Millersville University signed a new five-year agreement with the Pennsylvania Department of Environmental Protection to continue to monitor precipitation.  The Department of Earth Sciences has been involved with this program since 2002, monitoring precipitation at a site near Millersville.
The Millersville University Alumni Association awarded spring 2012 Neimeyer-Hodgson Research Grants to Jassinya Alvarado-Padilla, educational foundations; JaQui Archey, chemistry; Sarah J. Geiger, chemistry; Audrey D. Gerold, biology; Jonathan Kettering, biology; Stephanie K. Koppenhaver, social work; Kelly Loder, psychology; John D. McAnany, chemistry; Joseph McKenzie, chemistry; Thi Nguyen, chemistry; Amy Puchalsky, biology; Joseph D. Puchalsky, chemistry; and Carol S. Reina, psychology/African American Studies, all fulltime undergraduate students at Millersville.
The Department of Economics hosted its annual Economics Symposium, for alumni, business leaders, parents, faculty and students, to honor achievements of economics majors and to explore and discuss student and faculty research. During the symposium, 11 students were inducted into the Omicron Delta Epsilon international honor society of economics.
Students learned how to create their own smart phone or tablet app as part of a new computer science course taught by Dr. Roger Webster, who has developed 20 Android apps currently published on the Android market.
The Department of Nursing implemented a completely revised Bachelor of Science in Nursing curriculum in 2011-2012 and began offering the curriculum, partially onsite, to nurses at the Coatesville Veterans Administration Medical Center.  The balance of the program is offered online.
Randi Zuckerberg, the former marketing director of Facebook and sister of Facebook co-founder and CEO Mark Zuckerberg, presented "Mastering Social Media & Creating a Culture of Innovation" as Millersville University's 2012 Innovator-in-Residence. She also held an afternoon workshop for students, who learned about marketing and innovation from an experienced professional (pictured below, Zuckerberg, center, with Millersville students).
The Fall and Spring New Student Orientations introduced more than 1,400 new students to the campus through intentional programs that address key retention issues.  Among the programs was CHOICES, a harm-reduction model addressing alcohol abuse; Creating Caring Communities promoting multiculturalism and diversity at the University; and the Common Reading program, which includes small group discussion promoting inclusion and diversity while raising awareness of societal issues.
Student Success
More than 23 School of Science and Mathematics students gave research presentations at regional, national or international professional meetings, and 135 students engaged in 150 undergraduate student-faculty research projects.  
School of Humanities and Social Sciences students published three articles, presented 30 papers and five posters at conferences/meetings, crafted seven creative works, made 11 creative presentations, 71 creative performances/recitals and had their work shown in 72 exhibitions or solo shows. More than 200 students engaged in joint student-faculty research, and 54 students received regional or national awards.
Four Millersville technology education students placed third in both the structural and graphics challenge categories at the 12th Annual Student Packaging Design Competition, sponsored by the Association of Independent Corrugated Converters, for their entry "The Last Marauder" (pictured right).  The contest challenged students to design a packaging solution based on a given problem typical of industry needs for corrugated packaging. This is the second time that Millersville University students have placed in this contest in the three years they have competed.
Millersville University was represented by two teams at the 36th annual IBM-sponsored Association for Computing Machinery International Collegiate Programming Contest, held at Shippensburg University, competing against 164 teams from regional universities. Team Millersville Gold ranked 116th, while team Millersville Black ranked 134th.
Millersville's Automatic Color-sorter with Dedicated Active Dual-drive Integration, or MAC DADI, a custom robot designed by the 2011 Association of Technology, Management and Applied Engineering (ATMAE) Student Chapter/Robotics Team at Millersville University, won Best Electrical/Control Methodology, Best Manufacturing and Best Technical Paper at the ATMAE National Conference.
Fourteen Millersville University seniors were inducted into the University's Iota Delta Chapter of Delta Mu Delta, an international honor society in business administration.
At the Capital Area Regional Model Arab League simulation, held at Georgetown University, four students from Millersville University's Middle Eastern Studies Organization received awards. Students were required to remain in character as members of the Jordanian delegation as they competed against more than 120 students from 15 other colleges/universities. Millersville students who received awards included Derek Smith and Bjorn Bolt, who earned Honorable Mention awards for their representation of Jordan on the Joint-Defense Council; Richard Lyons, who earned the Best Delegate for Environmental Affairs award for his representation of Jordan on the Environmental Affairs Council and Crystal Manafi, who earned an Honorable Mention for chairing the Political Affairs Council.
Five members of Millersville University's African Student Association represented the country of Benin, joining their peers from 48 different institutions across the country, at the 10th annual Model African Union in Washington, D.C. The Model African Union is a simulation of the Organization of African Unity and its successor, the African Union. Dr. Onek Adyanga, faculty advisor, won the Committee Leadership Award for the Committee on Union Government.
Daniella Singleton, a senior broadcasting major, placed in the top 25 (out of 236 total entrees) as part of the first PASSHE Student Business Plan Competition. Twenty-eight Millersville students entered the competition for a grand prize of $10,000.
Millersville University's Cyber Defense Team (pictured below), consisting of seven computer science majors, put their computer security skills to the test against seven other national universities at the CyberWatch Mid-Atlantic Collegiate Cyber Defense Competition, placing second in the overall competition and first in the category of service availability.


Millersville University graduate student Megan Haas Pribicko received a Fulbright English Teaching Assistant Fellowship to Germany for 2011-12.