Office of the President
Council of Trustees
Each Pennsylvania State owned university has a Council of Trustees, consisting of 11 members appointed by the Governor with the approval of the Senate. Primarily, the trustees are responsible to make recommendations to the chancellor for the appointment and dismissal of the president and to approve the university budget, new academic programs, contracts and fees other than tuition.
The trustees are an active, valuable supporting force for Millersville University. The President frequently consults with trustees on University issues and they assist with public relations and advancement. Trustees further support the University by serving actively on the Strategic Planning and Resource Council, the campaign cabinet and the boards of affiliated organizations. They also participate in diversity workshops and other University events.
President John M. Anderson, Ph.D., ex officio
Dr. James P. Argires
Senator Gibson E. Armstrong
Chancellor Frank T. Brogan, ex officio
Dr. Richard L. Frerichs, '64, Vice Chairman
Mr. Kevin F. Harley, '86, Secretary
Dr. William B. McIlwaine
Mr. Brian A. Rider, '87
Gerald S. Robinson, Esquire
Mr. Michael G. Warfel, '84, Chairman
Mrs. Ann S. Womble
2 current vacancies (one is a student position)
Contact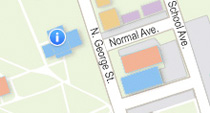 Office of the President
Millersville University
Biemesderfer Center
101 North George Street
Millersville, PA 17551-0302
Phone 717-871-7001
Fax 717-871-7930
mupresident@millersville.edu
Biemesderfer Center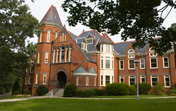 Everyone that comes to Millersville and passes the old library is awe struck. All the intricate detail on the outside of the building is worth stopping to look at.