V-Day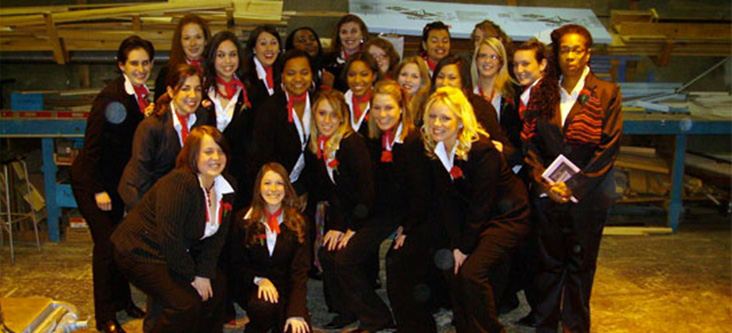 Highlights From Past Years V-Day Events
This Year's Performances were held on February 20(Friday) & 21(Saturday) 7:30pm in Lyte Auditorium
MU is proud to announce that in 2007 we raised approximately $6,000
In 2008 we raised approximately $7000
Our goal for 2009 is to meet or exceed $8000
(this figure is a combined amount of ticket sales and fundraising efforts)
All Proceeds will be donated to our local beneficiaries:
The Milagro House and The Domestic Violence Services of Lancaster County
%10 of our funds will go to the International V-Day 2009 Spotlight campaign: Stop Raping Our Greatest Resource, Power to Women & Girls of DRC
V-Day's 2009 Spotlight Campaign focuses on Women and Girls of the Democratic Republic of Congo (DRC). The atrocities being perpetrated against women and girls in the DRC are nothing less than a femicide – the systematic destruction of the Congolese female population. Since 1996, sexual violence against women and girls in the Eastern part of the DRC has been used as a weapon of war to torture, humiliate and destroy not only women and girls, but entire families and whole communities. Since the conflict began, hundreds of thousands of women and girls have been raped.
By joining this campaign, you will be supporting Congolese women and men who are demanding an end to rape. You will be supporting local efforts to demand justice and accountability. You will be supporting survivors of sexual violence to heal and rebuild their lives and communities. Your Spotlight Funds will help to build and sustain the City of Joy. And you will join others around the globe to demand that women and girls in DRC are safe.
Make MU the safest campus on earth for women & girls!!
A BIG THANK YOU TO ALL WHO CAME OUT TO SUPPORT PEACE AND AN END TO VIOLENCE!!!!!
For information on how you can be involved with future V-Day events contact the Women's Commission at 717-871-2242 or write to womens.commission@millersville.edu
About V-Day/Vagina Monologues
THE VAGINA MONOLOGUES is based on Eve Ensler's interviews with more than 200 women. With humor and grace the piece celebrates womens' sexuality and strength.
V-Day is a global movement to end violence against women and girls initiated by Eve Ensler's award-winning play "The Vagina Monologues." In 2005, more than 2,500 V-Day events will take place in the U.S. and around the world. To date, V-Day has raised over $30 million and educated millions about the issue of violence against women and the efforts to end it; crafted international educational, media and PSA campaigns; reopened shelters; funded safe houses in Kenya, South Dakota, Egypt and Iraq, and over 5,000 community-based anti-violence programs.
The 'V' in V-Day stands for Vote, Victory, Valentine and Vagina.
The National Domestic Hotline
1-800-799-SAFE
RAINN (Rape, Abuse, and Incest National Network)
1-800-565-HOPE
The Milagro House, Lancaster PA
717-392-1101
Sexual Assault Counseling and Prevention Center, Lancaster County, PA
717-392-7273
Lancaster Shelter of Abused Women, Lancaster County, PA
717-299-1249
V-Day website:
V-Day