Commencement for Graduate Students
Graduate Student Commencement Ceremony
Millersville University hosts a graduate student only commencement ceremony in the spring of each year to recognize master's degree students who have completed their programs in summer-spring of the previous year.
For complete information on commencement, including cap & gown, tickets, parking, rehearsal, etc. please visit the university commencement website.
Graduation Application
If you are planning to complete your master's degree, you must complete the graduation application. Signatures from your advisor and graduate program coordinator should be obtained before submitting the application to the College of Graduate Studies and Adult Learning. The deadline to submit this application each term will be posted on the registrar's webpage under important dates and information. For the regular fall and spring terms, the deadline is generally 3-4 weeks into the semester.
The master's degree graduation application is available in the graduate student forms center.
See images from the College of Graduate Studies and Adult Learning Commencement...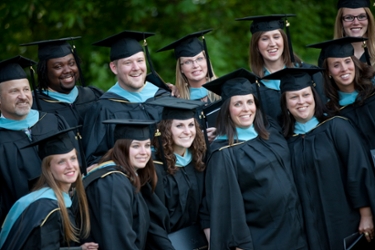 Click here for more photos from commencement!