Construction Management
Program Goals

The construction industry is vitally important to strengthening the nation's economy. According to the U.S. Census, data construction spending in January 2015 was more than $970 million, including all residential and non-residential construction in the public and private sectors.
See what one of our AETM degrees can do for you.
Please view the video to learn more about the Applied Engineering and Technology Management degrees at Millersville...
Degrees/Minor
Bachelor of Science (B.S.)
Applied Engineering and Technology Management

The Construction Management concentration helps students develop the theoretical knowledge and leadership skills to pursue career opportunities in construction management such as scheduling assistant, compliance assistant, cost estimator assistant or safety coordinator. Courses included in this option provide an overview of computer-aided drafting and design (CAD/D), architectural design, construction methods, construction planning, construction scheduling, supervision, construction estimating and take-offs, and construction contracts.
Click here to view a typical 4-year program of study. This is provided for reference only. You will work closely with your advisor to determine the best way for you to complete your degree.
Associate of Technology (A.T.)
Applied Engineering and Technology (AET)
The Construction Technology concentration within this program provides students with both the theoretical knowledge and practical skills that are essential for careers in the construction technology. Courses included in this option provide experiences in computer-aided drafting and design (CAD/D), architectural design, materials and processes, and construction methods. All courses in this option include practical laboratory experiences and problem solving activities with the tools, materials, equipment and software that are fundamental to understanding the principles of construction technology.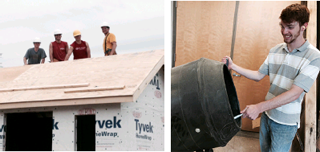 Minor in Construction Technology
Construction Technology minor students complete 18 credits of technical courses. Four of these are foundational classes in safety, materials processing, and computer-aided drafting & design. Students then select two technical courses focused specifically in construction technologies.
SELF-GUIDED ONLINE TOUR
Join us from the comforts of home on a self-guided online tour!
Start the Tour