Graphic Communication
Program Goals
Graphic communication is a multifaceted industry, with a wide range of career opportunities in fields such as print production, publishing, packaging, and web-based media. This highly technical industry employs men and women working as prepress/premedia specialists, researchers, technicians, sales people, customer service representatives, package engineers, quality control specialists, production supervisors and managers.
Interested in Graphic Communications? Request More Information.
See what one of our AETM degrees can do for you.
Please view the video to learn more about the Applied Engineering and Technology Management degrees at Millersville...
Degrees/Minor
Bachelor of Science (B.S.)
Applied Engineering and Technology Management
The Graphic Communication concentration within this four-year concentration provides students with both theoretical knowledge and practical skills that are relevant for careers in the graphic communication industry. Courses provide technical preparation in print media, web-based publishing, design principles, digital imaging, desktop publishing, color theory, packaging, print production, and research and development. In addition to technical classes, management coursework makes up a significant part of the degree requirements. Graduates of this program typically find employment in planning and estimating, customer relations, digital production, sales, and quality control.
Click here to view a typical 4-year program of study. This is provided for reference only. You will work closely with your advisor to determine the best way for you to complete your degree.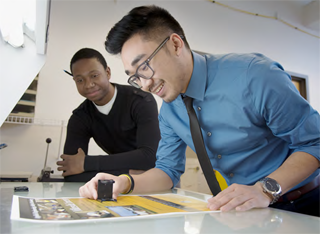 Associate of Technology (A.T.)
Applied Engineering and Technology
The Graphic Communication concentration within this two-year program provides students with the same basic technical coursework as the AETM program, but without courses in management. Graduates of this degree concentration typically find employment in all technical phases of the industry, from pre-press through post-press operations, including design and layout, and desktop publishing.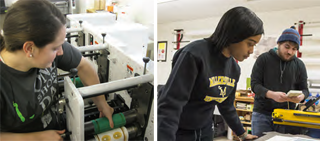 Minor in Graphic Communication
Students minoring in
Graphic Communication
will complete 18 credits of technical courses. Three of these are core graphics classes and then students choose three technical courses like digital imaging, desktop publishing, packaging, research and development, and contemporary printing.
Requirements
SELF-GUIDED ONLINE TOUR
Join us from the comforts of home on a self-guided online tour!
Start the Tour