Nanofabrication Manufacturing
Program Goals
Nanotechnology is helping to considerably improve, even revolutionize, many technology and industry sectors: information technology, energy, environmental science, medicine, homeland security, food safety, and transportation,  among many others. Most benefits of nanotechnology depend on the fact that it is possible to tailor the essential structures of materials at the nanoscale to achieve specific properties, thus greatly extending the well-used toolkits of materials science. (Source: US National Nanotechnology Initiative, nano.gov)
See what one of our AETM degrees can do for you.
Please view the video to learn more about the Applied Engineering and Technology Management degrees at Millersville...
Degrees/Minor
BACHELOR OF SCIENCE (B.S.)
Applied Engineering & Technology Management
The Applied Engineering and Technology Management (AETM) program prepares students for the forefront of technological innovation. Nanotechnology can be applied to nearly any industry, and therefore, there are abundant possibilities in where this degree can be used. As the demands for faster computers, tailored healthcare and energy efficiency increase, nanoscale science and engineering are more important than ever. A well-trained workforce will be critical to filling the need.
Students in Nanofabrication Manufacturing Technology complete 18 credits of technical courses in nanoscale science and engineering at Pennsylvania State University's Center for Nanotechnology Education and Utilization (CNEU). In this program, students work on a variety of projects in multi-million dollar facilities using cutting-edge equipment. The skills gained are directly transferable to industry and include cleanroom training and nanomaterials assessment and production, such as silicon processing, electron microscopy and other techniques for producing and analyzing nanoscale structures.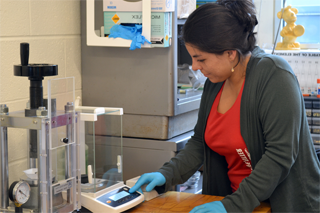 ASSOCIATE OF TECHNOLOGY (A.T.)
Applied Engineering & Technology
The Applied Engineering and Technology (AET) associate degree prepares students equally well for technical proficiency in modern nanofabrication manufacturing environments. The curriculum mirrors the AETM program, but does not include the same depth of business and management coursework. Transfer into the AETM program is seamless if desired later on.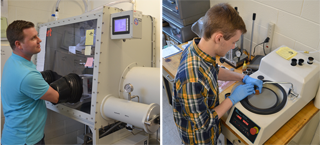 SELF-GUIDED ONLINE TOUR
Join us from the comforts of home on a self-guided online tour!
Start the Tour