Applied Engineering, Safety & Technology Department Majors
Endless Opportunities to Meet Your Needs
The Department of Applied Engineering, Safety & Technology has degree programs that offer you endless opportunities. Whether you're looking to become a teacher, technologist, applied engineer, engineering technologist, safety professional or manager, this department has the preparation you need for success.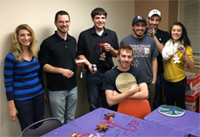 Applied Engineering and Technology Management (AETM): The Bachelor of Science (AETM) program prepares applied engineers, technologists, and technical managers with competency in general education, an applied engineering specialty (known as an option), and management. If you select this major, you'll gain experience with the University's general education requirements, a broad perspective of what technology and engineering is and what it does, as well as acquiring deep knowledge in the applied engineering option of your choice. You will also experience courses in management to prepare you for your professional career.
An Associate degree in Applied Engineering and Technology (AET) is available if you are looking for an applied engineering technical degree without the management component and reduced general education requirements. The associate's degree track is designed so that if you decide to transition into a bachelor's degree, you can do so without losing the credit for courses you've already taken.
View More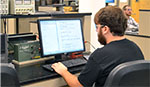 Automation & Intelligent Robotics Engineering Technology (AIRET): Combining coursework from the applied engineering, safety and technology and computer science departments, the robotics engineering technology program is designed to produce graduates with the ability to work with multiple types of technology to design and implement projects that have advanced programming needs.
View More

Manufacturing Engineering Technology (MFET): Students in the major are introduced to the fundamentals of engineering, materials, and production processes used within industry. The program provides in-depth technical content in advanced manufacturing with an emphasis on automated manufacturing and computer integrated manufacturing.
View More
Technology & Engineering Education (TECE): The Technology & Engineering Education program (TECE) is a teacher training program for individuals seeking certification to teach a broad range of courses in K-12 technology & engineering education. The 4-year program is comprised of general education courses, technical courses to build content knowledge, and professional courses that immerse students in field experiences with K-12 students, including a full-time student teaching semester. An optional Engineering Design Education concentration is also available. Students graduating in this major are eligible for Pennsylvania teacher certification in Technology Education which enables them to teach all courses in this content area such as computer-aided drafting and design (CADD), graphic communication, manufacturing and materials, construction, energy and power, transportation, electronics, automation, engineering design, and much more. Many states have reciprocity with Pennsylvania which generally enables graduates to apply for certification in other states once they have the PA certification. There is currently a shortage of technology & engineering education teachers in many states which means there are exceptional job opportunities for TECE graduates.
View More
An optional concentration is available for Technology & Engineering Education students in Engineering Design Education. This concentration builds deeper understanding and expertise for STEM (science, technology, engineering, and math) education.
View More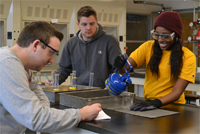 Occupational Safety & Environmental Health (OSEH): The Occupational Safety & Environmental Health (OSEH) program is designed for people interested in professions in safety, health, and environmental fields. Career opportunities are endless. General education courses are used to develop basic science knowledge while the major courses focus on the application of science in the technical and managerial aspects of safety and environmental health. A full semester internship opportunity is provided as a required part of the program.
A Bachelor of Science degree in OSEH provides an entry point into a profession that focuses on improving the environment of workers. OSEH graduates work to protect workers and the general public from injury and illness. A challenging and rewarding opportunity in today's age of technological advancement awaits.
The Occupational Safety & Environmental Health program is recognized by the National Institute for Occupational Safety & Health as a Training Program Grant recipient.
View More
SELF-GUIDED ONLINE TOUR
Join us from the comforts of home on a self-guided online tour!
Start the Tour