AEST EBrochure And Poster
Your Future Starts Here...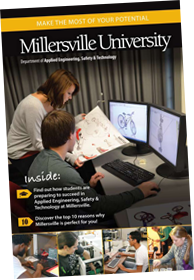 The Department of Applied Engineering, Safety & Technology offers a wide range of degrees tailored to meet the needs of students as they prepare for the professional world. We have nine concentrations in our bachelors and associates degree program in Applied Engineering and Technology Management. In our Technology and Engineering Education Teacher Preparation Program you can select the traditional path to teacher preparation, or select our newly created Engineering Design concentration. You can also prepare yourself for a career in Occupational Safety & Environmental Health.
Already degreed in another field? We have a graduate program for you too! We offer a Master of Education in Technology & Innovation Degree for those professionals seeking professional development to become leaders in the field. If you don't have the preparation from your undergraduate education to be a Technology and Engineering Education Teacher, we got you covered there as well. Post-baccalaureate certification options are available.
Does it sound like this is for you? Please view our eBrochure where you'll learn a little about our programs and meet several of our outstanding student. Most importantly, you'll learn how to contact The Department of Applied Engineering, Safety & Technology and we can help you fast-track your way to a productive future!

AEST Poster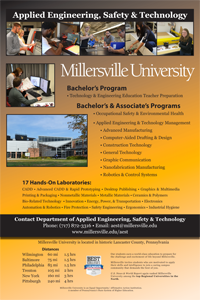 The new Applied Engineering, Safety & Technology poster is here. The Department would be pleased if you used an AEST poster to decorate your classroom, guidance counselor suite, or your dorm room!

Osburn Hall Self-Guided Tour Map
We like visitors!
If you would like to tour Osburn Hall, or stop by to have some questions answered, our doors are open to you. Summer building hours are 7:00am to 4:30pm, and regular semester hours are 7:00am to 10:00pm. Someone is usually available to show you around, but we have created a self-guided tour brochure that you can download or pick up at the information booth in the main lobby. To download a copy, please click here.