Where Is Now? - Emotionally Navigating the Landscape
Michael Shum
VIEW THE EXHIBITION Ι 9/19 - 10/2.2020
SWIFT GALLERY ι BREIDENSTINE HALL (3rd Floor)
COVID-19 Safety Protocol ι  Due to Covid-19, we are required to limit the capacity of Swift Gallery to 18 occupants at a time.  Because of this, I've arranged two live sessions on September 23rd, or the opportunity to meet with me on September 24th for a virutal Zoom session.  Thank you for your cooperation.

Live Reception/ Artist Talk ι 9/23.2020 (2 sessions available)
5-6 pm talk starts at 5:15 pm
6-7 pm talk starts at 6:15 pm 
Virtual Reception/ Artist Talk ι 9/24.2020 
Join me for a Zoom conference call from 2-3 pm. ZOOM Link 

Meeting ID: # 731 1422 8314
Passcode: lovepaint
Gallery Hours ι  Standard business hours for Swift Gallery are Monday - Friday from 8:00 am - 4:00 pm. Hours are subject to vary in accordance with University established holidays (below) and the reception, gallery talk/s or awards ceremony.
About the Exhibition ...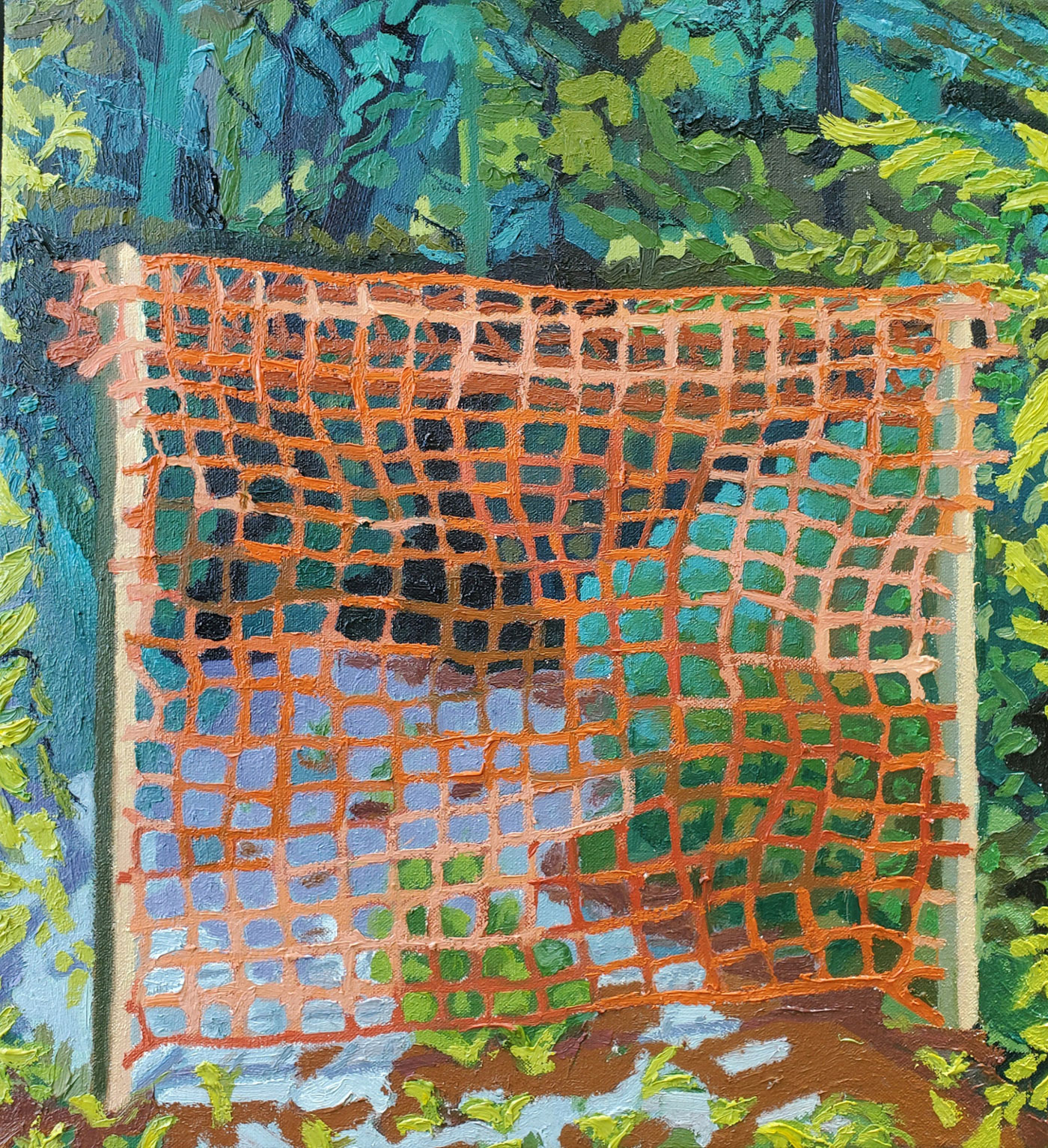 This exhibition was originally intended for the spring of 2020 and due to health and safety concerns; it was postponed. The show was going to be of completely different work, but like our current need to adapt and change so did this show. "Where is Now?" is a retrospective of work made after graduating and what it means to be a painter currently. Trying to escape the imagery of our everyday problems and politics lead me to paint in nature, although observational painting relies not only on sight but on emotions and other senses. As a result, embedding the current narrative and my feelings about them into the landscape. "Where is Now?" is the unintentional insertion of our world in the natural landscape. 
About the Artist ...
Michael Shum received his Bachelor of Fine Arts from Millersville University in 2020. He participated in the Mount Gretna School of Art summer intensive painting program following graduation.  Michael's studio is near Millersville, PA, where he is most often found painting from observation as well as intuitive invention. Even with this new studio space, Michael enjoys hiking out into the landscape to paint Plein-air as a primary driving force for his work. 
University Holidays

Campus Closed

New Year's Day - observed 01/01 (Monday)
Martin Luther King, Jr. Day - 01/15 (Monday)
Memorial Day - 05/28 (Monday)
Independence Day - 07/04 (Wednesday)
Labor Day - 09/03/18 (Monday)
Thanksgiving Day - 11/22 (Thursday)
Day after Thanksgiving Day - 11/23 (Friday)
Christmas Day - 12/25 (Tuesday)
12/26 (Wednesday) - 12/31 (Monday)
New Year's Day (2019) - 01/01/19 (Tuesday)

Directions & Parking

DIRECTIONS - GOOGLE MAPS 


To the MU Police Station for a Parking Permit ... As you drive down N. George Street, on the right, you will see signage on a brick wall welcoming you to Millersville University.  This is the intersection of N. George Street & W. Cottage Avenue. If you make a right, you will find the University Police Station .  Please stop in to request a free daily parking pass from the attendant at the main desk. This parking pass will be valid for white lines spaces only.  

To Swift Gallery ... As you proceed down George Street.  On the left, you will see the Sugar Bowl which will put you on Normal Avenue.  At this turn, you will see a campus street sign for "Breidenstine Hall" (Department of Art & Design).  Stop at the first Stop Sign and proceed straight.  You will pass Biemesderfer Stadium and Chryst Field on your left hand side.  A little further on the right you will see a square brick building with teal and white placards with the words "Art & Design". This is Breidenstine Hall, your destination of 46 E. Frederick Street.  Sykes Gallery will be on the ground level of this building.  Please address the department secretary in room 101 for access to the entrance for handicap accessibility. 

To the Bus Parking Lot ... West Cottage Ave & North George St.

---

PARKING PERMITS

Daily campus parking permits are required before 4:00 pm and available at the campus 

Police Station

 in Lebanon House on 237 N. George St., Millersville, PA 17551. These permits will only be valid for white, not yellow lined spaces.  The station is open from 8:00 am – 4:30 pm. (717) 871-4357.

Contact Us ...

MILLERSVILLE UNIVERSITY
DEPARTMENT OF ART & DESIGN 
Breidenstine Hall
46 East Frederick Street
Millersville, PA 17551

Secretary ι  Mrs. Kate Kinney
Main Office ι Room 101 - Ground Level
Hours ι Monday-Friday (8:00 am - 4:00 pm)
Email ι kate.kinney@millersville.edu
Phone ι 717.871.7249
Fax ι 717.871.7929