Public Art Pop-Up Kiosks
PRESENTED BY ART & DESIGN'S ADVANCED PAINTING CLASS
VIEW THE EXHIBITION Ι 10/29.2020 - 1/25.2021
WINTER VISUAL & PERFORMING ARTS CENTER ι MAIN ENTRANCE
Visit the paintings in the kiosks outside the main entrance to the Winter Visual & Performing Arts Center, 60 W. Cottage Ave., Millersville, PA 17551.
About the Exhibition ...
This temporary public art project was organized by Heidi Leitzke, Eckert Art Gallery Director and Dorothy Frey, Painting Professor, to provide Advanced Painting students the opportunity to collaboratively create and exhibit bold paintings that share important messages for our campus community.
Title: You Will Never Take My Power
THE ARTISTS:  TEE AVILES - BRIDGET O'SULLIVAN - ALYSSA TASCIONE - JOYCE WILLIAMS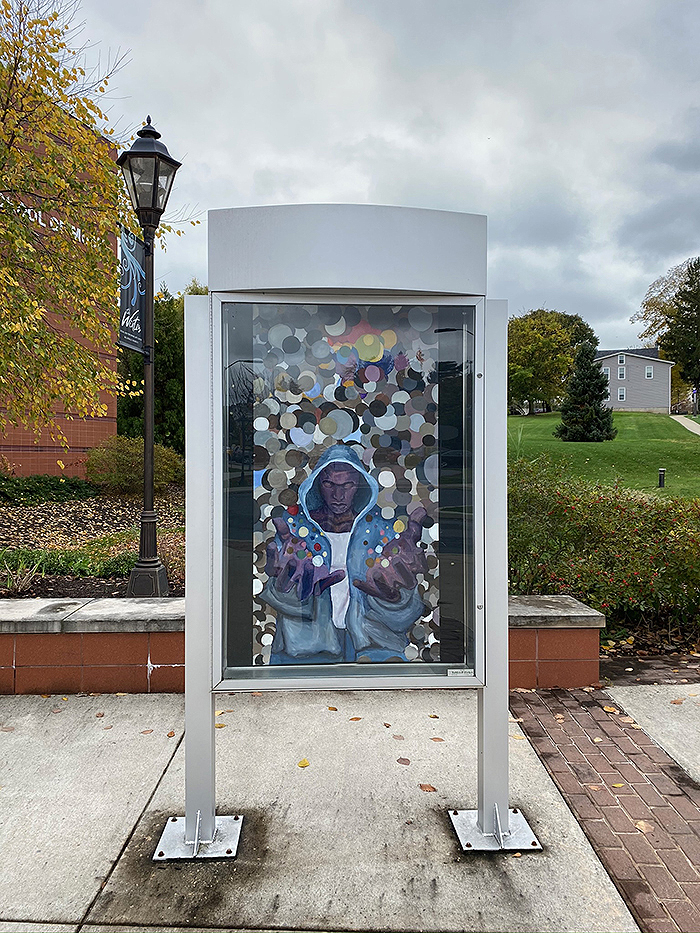 About this Project ...  Our painting was created to show power and strength within the black community. The figure in our piece with open hands, observes the powerful beauty he holds within. The background portrays an abstracted scene of a peaceful protest in response to the wrongful death of George Floyd. This piece is in dedication of the recent deaths caused by police brutality. Lives such as Tony McDade, Breonna Taylor, Ahmaud Aubrey, as well as many other countless lives lost that were not recorded or afforded the awareness they deserve. This mural can shed light on the issue of systemic racism that exists within our society today. It is our hope that this piece raises awareness that we, as a community, will advocate for social change.
Title: Rescue the Amazon
THE ARTISTS:  CASSANDRA SHANNON - JENNA RAEZER - SARAH HUNSIKER - QUENTIN BRENDEL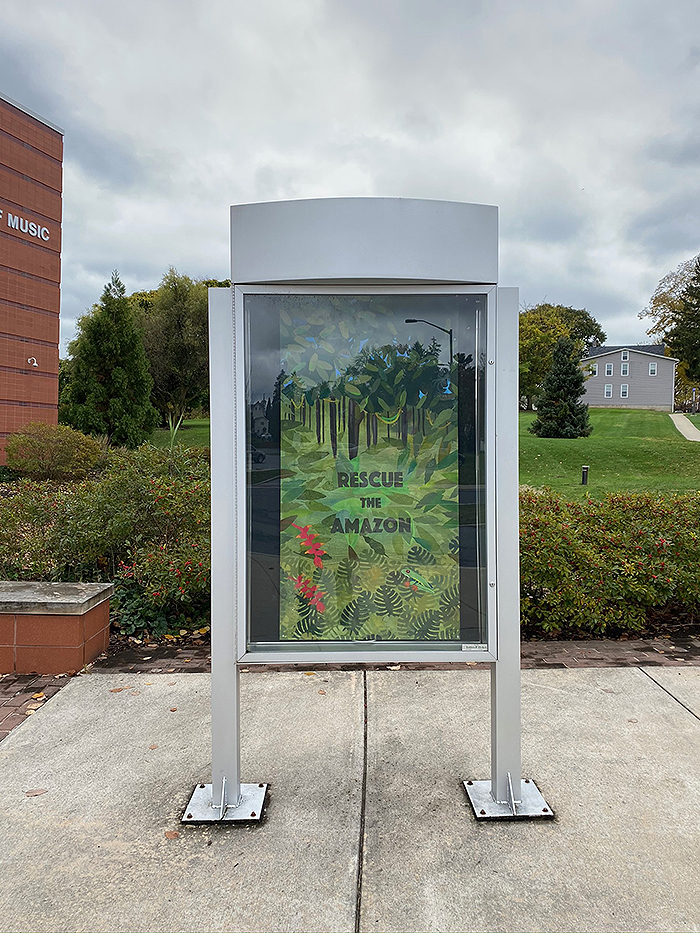 About this Project ... Our planet's tropical rainforests are still being destroyed at an alarming rate. Rainforests are the richest and most biologically diverse ecosystem on Earth, and much of them is being lost to human activity. We believe that nature should be preserved so that future generations can observe the splendor of life on Earth at its most brilliant. This poster depicts a lush, verdant view of the Amazon jungle, with its indigenous plants and animals, to draw attention to the irreversible damage that is being done.
Title: Water Your Inner Garden
THE ARTISTS:  MARLENA POPSON - JAMES ARNOLD - MCKENNA DUNN - KAITLYN FISCHER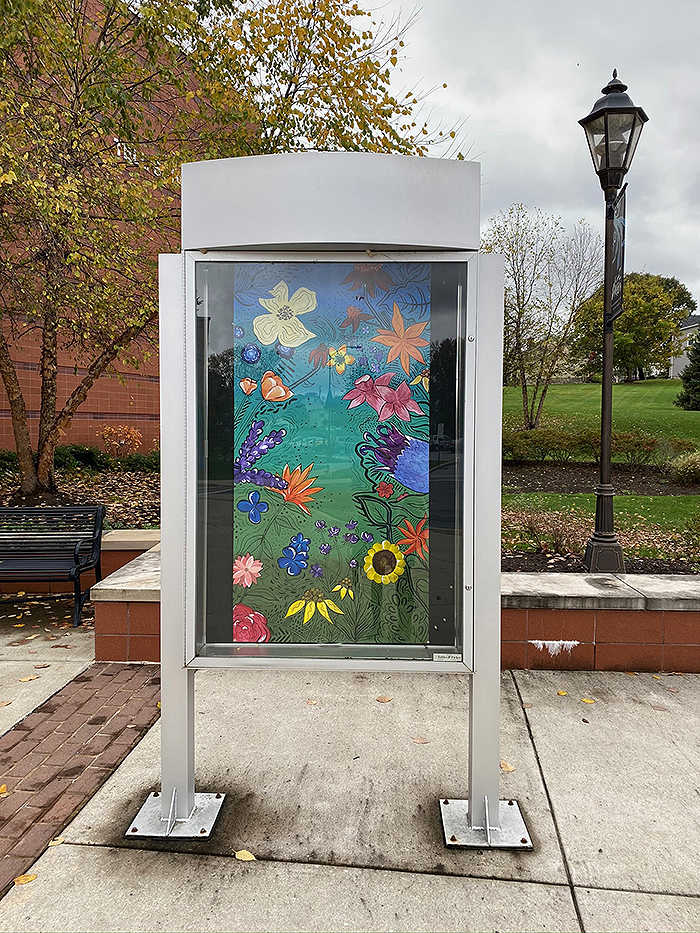 About this Project ... This piece was inspired by the poem "After a While" by Veronica A. Shoffstall. We wanted to focus on the theme of self-care and self-positivity, and were drawn to a line in Shoffstall's poem "So you plant your own garden, and decorate your own soul instead of waiting for someone to bring you flowers". We transformed this idea into a painting using the same flowing garden to represent how we should decorate our own souls.
University Holidays

Campus Closed

New Year's Day - observed 01/01 (Monday)
Martin Luther King, Jr. Day - 01/15 (Monday)
Memorial Day - 05/28 (Monday)
Independence Day - 07/04 (Wednesday)
Labor Day - 09/03/18 (Monday)
Thanksgiving Day - 11/22 (Thursday)
Day after Thanksgiving Day - 11/23 (Friday)
Christmas Day - 12/25 (Tuesday)
12/26 (Wednesday) - 12/31 (Monday)
New Year's Day (2019) - 01/01/19 (Tuesday)

Directions & Parking

DIRECTIONS - GOOGLE MAPS 


To the MU Police Station for a Parking Permit ... As you drive down N. George Street, on the right, you will see signage on a brick wall welcoming you to Millersville University.  This is the intersection of N. George Street & W. Cottage Avenue. If you make a right, you will find the University Police Station .  Please stop in to request a free daily parking pass from the attendant at the main desk. This parking pass will be valid for white lines spaces only.  

To Swift Gallery ... As you proceed down George Street.  On the left, you will see the Sugar Bowl which will put you on Normal Avenue.  At this turn, you will see a campus street sign for "Breidenstine Hall" (Department of Art & Design).  Stop at the first Stop Sign and proceed straight.  You will pass Biemesderfer Stadium and Chryst Field on your left hand side.  A little further on the right you will see a square brick building with teal and white placards with the words "Art & Design". This is Breidenstine Hall, your destination of 46 E. Frederick Street.  Sykes Gallery will be on the ground level of this building.  Please address the department secretary in room 101 for access to the entrance for handicap accessibility. 

To the Bus Parking Lot ... West Cottage Ave & North George St.

---

PARKING PERMITS

Daily campus parking permits are required before 4:00 pm and available at the campus 

Police Station

 in Lebanon House on 237 N. George St., Millersville, PA 17551. These permits will only be valid for white, not yellow lined spaces.  The station is open from 8:00 am – 4:30 pm. (717) 871-4357.

Contact Us ...

MILLERSVILLE UNIVERSITY
DEPARTMENT OF ART & DESIGN 
Breidenstine Hall
46 East Frederick Street
Millersville, PA 17551

Secretary ι  Ms. Wanda Doyle
Main Office ι Room 101 - Ground Level
Hours ι Monday-Friday (8:00 am - 4:00 pm)
Email ι wanda.doyle@millersville.edu
Phone ι 717.871.7249
Fax ι 717.871.7929