Otho Davis
Otho Davis, 66; Eagles' trainer for 23 seasons (1934 - 2000)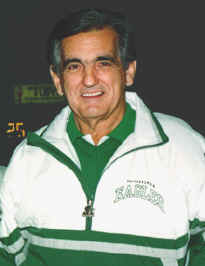 By Phil Sheridan
INQUIRER STAFF WRITER
Otho Davis used to have a picture on his office wall of a man on horseback. The caption read, "It's not how many people you know, it's how many people you help."
That was the credo of the man who mended the Philadelphia Eagles for 23 years. Mr. Davis died Tuesday night of cancer of the pancreas and liver at age 66. He leaves behind a wife, five children, hundreds of players he healed and mentored, and a generation of athletic trainers who learned from his example and benefited from his generous spirit.
"Otho went above and beyond the textbook definition of an athletic trainer," said friend Rob Incmikoski, the first recipient of the Otho Davis Scholarship. The scholarship fund was established last year by former players and colleagues.
"He was an icon," said David Price, a protégé of Mr. Davis who is now head trainer for the New York Jets. "You can't teach what Otho knew. He had an unbelievable drive, whether it was for getting somebody healthy or for helping someone.
"More than anything, I think he stood for loyalty. I feel blessed to have known him for 20 years."
A Mount Laurel resident, Mr. Davis was a character as unique as the memorabilia-strewn training room that served as a place of healing and a retreat for Eagles players. The old leather helmets and crude pads created a warm environment for players who were sometimes stuck in the trainer's room for hours at a time. A native Texan, Mr. Davis was known for his homemade potions and ointments as well as his command of the latest training techniques.
A trainer for a professional sports team has to walk a fine line between getting players ready to play and protecting their health.
"It's a business," Price said. "You have to get players back on the field. Otho did a good job of that, but his utmost concern was doing what was best for the player."
"A trainer is part mom, part shrink, whatever a guy needed," said former Eagles receiver Mike Quick, who suffered two serious knee injuries during his career from 1982 to '90 and recovered under Mr. Davis' care. "When you're injured, you don't feel like part of a team, but Otho always had something going on. There was comic relief that always put a smile on a guy's face at a time when he was really feeling down."
When former Eagles running back Keith Byars came to town this week to announce his retirement, he gave thanks to the man who helped him return from the injuries that plagued him early in his career. Byars went directly from the news conference to St. Agnes Medical Center, where Mr. Davis spent the last two weeks of his life.
Incmikoski was befriended by Mr. Davis and Price as an 11-year-old South Philadelphian who used to sneak into Eagles practices. After becoming a ball boy and errand boy for the team, he was taught to tape ankles and help out with paperwork. Now 24 and a graduate student at Temple University, Incmikoski was close to Mr. Davis right up until the end.
"Two weeks ago, he put in an 11-hour workday," Incmikoski said. "He had a stroke that night. It's hard to see someone you care about suffer so much. I know he's in a better place now."
Mr. Davis was past executive director of the National Athletic Trainers Association and was its trainer of the year five times. He was inducted into the NATA and Pennsylvania Sports Halls of Fame. He served as the Eagles' trainer from 1973 through 1995, including stints alongside coaches Dick Vermeil and Buddy Ryan. While with the Eagles, he implemented an internship program that launched the careers of many trainers. Through them, Mr. Davis' legacy lives on.
Mr. Davis is survived by his wife, Mary Louise; a daughter, Denise Farrington; sons Mark, Harry, Richard and Thomas; and six grandchildren. Mr. Davis will be buried in his hometown of Elgin, Texas.
Otho Davis Treated More Than Just Injuries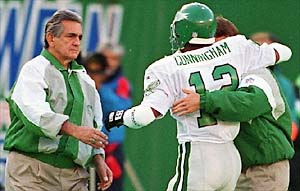 By Len Pasquarelli
SPORTSLINE.COM SENIOR WRITER
In the end there was this bitter irony: The man who had doctored Philadelphia Eagles players for 23 seasons, the combination father, confessor and mother hen who patched up and sent scores of rehabilitated veterans back out to the battlefront, simply could not heal himself. 
There was, as it turned out, no homemade potion Otho Davis could have stirred up to beat back the insidious cancer that had gnawed at his liver and pancreas for the past eight months. The man who elevated the role of NFL trainer to an art form, Davis for the first time in memory lacked the recipe for concocting some odorous but effective balm of kerosene, eye of newt, DMSO and bat's breath to extend his life the way he had lengthened the careers of former Philadelphia players. 
And so Davis, the quiet Texan who spent much of his life wiring Humpty Dumpty back together again, finally succumbed last week at the age of 66. 
It was appropriate that when they toted his coffin into and out of the First Presbyterian Church in Moorestown, N.J., on Monday morning, on the way back to his windswept but unabashedly beloved Elgin, Tex., it was a group of Eagles players which comprised the brigade of pall bearers. After all, for nearly a quarter of a century, he carried them. 
Only fitting, it seems, they return the favor. 
"There are a lot of guys," said former Eagles quarterback Ron Jaworski, "who owe Otho some of those extra years in the pension checks. He was the best, and I don't mean only as a trainer. What he did for us went beyond just the medical side of things." 
The lone NFL trainer ever named to the All-Madden team by the former coached turned analyst, Davis probably was best known for his homemade remedies, some of which included ingredients the players to whom he ministered knew little about. While he never toyed with a player's career, Davis certainly was a tinkerer, a trainer who was not above the unconventional. Sometimes that included the occasional placebo. 
Almost always, though, the medical treatment was delivered with a generous dose of homespun philosophy. Amazing how often the unusual combination of an Ace Bandage for the knee and a homily for the head nudged Eagles players back into practice or a game long before they should ever have left the trainer's room. Looking back, most of the old-timers who benefited from Davis' magic acknowledged it was the healer and not his devices that made them whole again. 
His favorite coach, Dick Vermeil, long ago noted that Davis treated the individual just as much as he did the shoulder sprain. That human side, the personal touch that allowed him to relate well to everyman despite his royalty within his profession, never changed. 
Even last December, when Vermeil visited Philadelphia with his team, Davis, his body wracked by pain, got up out of bed to cook chili for the St. Louis Rams staff. Rumor was that even a whiff of his chili was enough to chase away any cold or sinus infection.
Said Vermeil: "Maybe it wasn't a cure-all, but it was pretty close." 
To those who viewed athletic trainers as the equivalent of voodoo doctors before Davis entered the NFL in 1973, his methods were regarded as state of the art, an assessment that usually merited a chuckle from the man himself. In an off-limits trainer's room at Veterans Stadium, an enclave he and some players dubbed "The Otho Davis Wildlife Sanctuary," he knew the state that mattered most was what was going on between a player's ears. 
Davis could reduce the swelling in a tailback's knee or shrink the size of a quarterback's ego with equal facility, and sometimes the only anti-inflammatory necessary was the sound of his voice. 
His widow, Mary Louise, once noted that her husband enjoyed rehabilitating the heart, the head and the soul more than he did strengthening an ankle or knee joint. Philadelphia Inquirer columnist Bill Lyon last week suggested that Davis was football's version of The Horse Whisperer, and noted "for all he knew about human anatomy, what he knew about the human condition was of far more use to him in treating the halt and the lame." 
There was no one -- none of his longtime colleagues, none of the Texas mafia he helped bring to the profession, no players or coaches, none of the beneficiaries of the annual college scholarship that bears his name and is awarded to trainer wannabes -- who could have described him better. Davis was deserving of that kind of universal praise and such lyrical and on-target prose. 
When a new regime, led by owner Jeff Lurie, booted Davis aside in 1995, the excuse was that the business had passed him by and that Otho perhaps didn't always comprehend some of the newer methodology. 
Hard to imagine, though, that human compassion ever goes out of style. 
We first encountered Davis 15 years ago when, working on a feature about the possible excessive use of painkillers in the NFL for a national football tabloid, we phoned him. Davis might not have agreed with the premise for the article, but that didn't preclude him from being helpful to a young reporter he had never met before. Last September, working on a lengthy SportsLine.com piece about concussions, we called Davis again and listened to his expertise and guidance. 
It was the last time we spoke, this reporter too dumb to realize Otho Davis suddenly had become a short-timer, always too busy to write out the thank-you note we kept reminding ourselves to send. In between that first call and the last one in September, there were maybe a dozen conversations in the decade and a half that passed. Truth be told, even via long distance, Otho Davis was expert enough to make you feel better by the time you hung up. 
After a 20-minute chat with Davis, you could look at your notebook or listen to audio tape as you transcribed, and know these two things: First, there was some bit of information to help you with the story. Second, there was characteristically a nugget of wisdom, a good one-liner, or even a well-told narrative that even hours later would make you feel better. 
If he was like that with a virtual stranger, a voice at the other end of a telephone line attached to a face he had seen only twice, one can imagine Davis' impact on the players and the coaches with whom he interacted on a daily basis. Certainly he had a huge effect on the profession he so loved. 
Five times he was honored by the National Athletic Trainers Association as the trainer of the year. Seven years ago he was inducted into the Pennsylvania Sports Hall of Fame. He is a member of the Kent University Hall of Fame as well and is in the Philadelphia Eagles Honor Roll. 
It's not by happenstance that some of the true pioneers among NFL trainers, men like Jerry Rhea of Atlanta and "Bubba" Tyer of Washington, hail from Texas and shared Davis' passion for a job they never considered just a job. Otho Davis was not the first trainer of his ilk in the league and to suggest he was would be to do injustice to healers such as Fred Zamberletti in Minnesota or Dean Kleinschmidt in New Orleans or Detroit's Kent Falb, just to name a few. 
But with those men, Otho Davis helped to raise the profile and the stature of a profession rarely afforded its due in the league. The scholarship in his honor will ensure Davis' legacy lives on for years.
What's gone for good, however, is a man who could teach you more than any textbook.