Athletic Training Program
Athletic Training/Biology --------- MU/WCU Dual Degree Program

The Athletic Training Strategic Alliance composed of the NATA, CAATE, BOC and NATA Research and Education Foundation jointly announced that professional (i.e. entry-level) education for Athletic Trainers will officially move to the master's degree.
Our sister school in our collaboration (West Chester University) will be moving quickly to a Master's program.  As such, the Fall 2016 class will be the last class of our Dual Degree relationship.  We will not continue our program at the graduate level. 
A new program has been developed that will be a collaboration with other graduate-level athletic training education programs in Pennsylvania.  This will be a 3 + 2 program with select schools that Millersville has forged agreements with. The student would enroll at Millersville for three years and then apply to one of our collaborative schools for admission the following year. On acceptance, they would transfer for their last two years.  On completion of their fourth year (first year in graduate school) they would transfer those credits back to Millersville and receive their bachelor's degree. Currently, we are working on collaborations with Bloomsburg, Lock Haven,  Slippery Rock, and West Chester University.
There is also a mechanism for those interested in completing their bachelor's degree at MU and then applying to an Athletic Training Graduate School. This gives the student the option of applying to any school in the country with an Athletic Training Graduate Program.
Course requirements for the 3+2 collaborative program.  Link
Course requirements for a four-year degree in preparation for a postgraduate application. Link
Application to a graduate program may also require pre-requisites including a certain number of hours observation of a certified athletic trainer submitted with the grad application.
Students seeking to fulfill those observation hours here at MU can contact Hank Fijalkowski, LAT, ATC at hfijalkowski@millersville.edu.
For more information contact Dr. Judith Cebra-Thomas in Biology:
judy.cebra-thomas@millersville.edu
Information below is for current students only who are finishing out the program.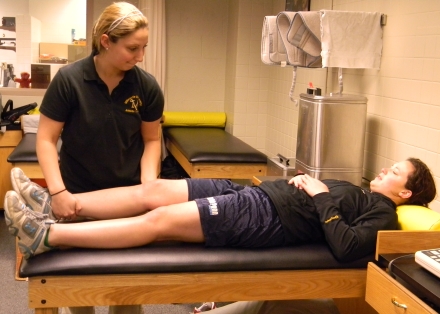 Take a Virtual Tour!
From new residence halls to high-tech facilities, learn why students refer to MU as a "home away from home."
Take the tour