IAEM 70th Annual Conference and EMEX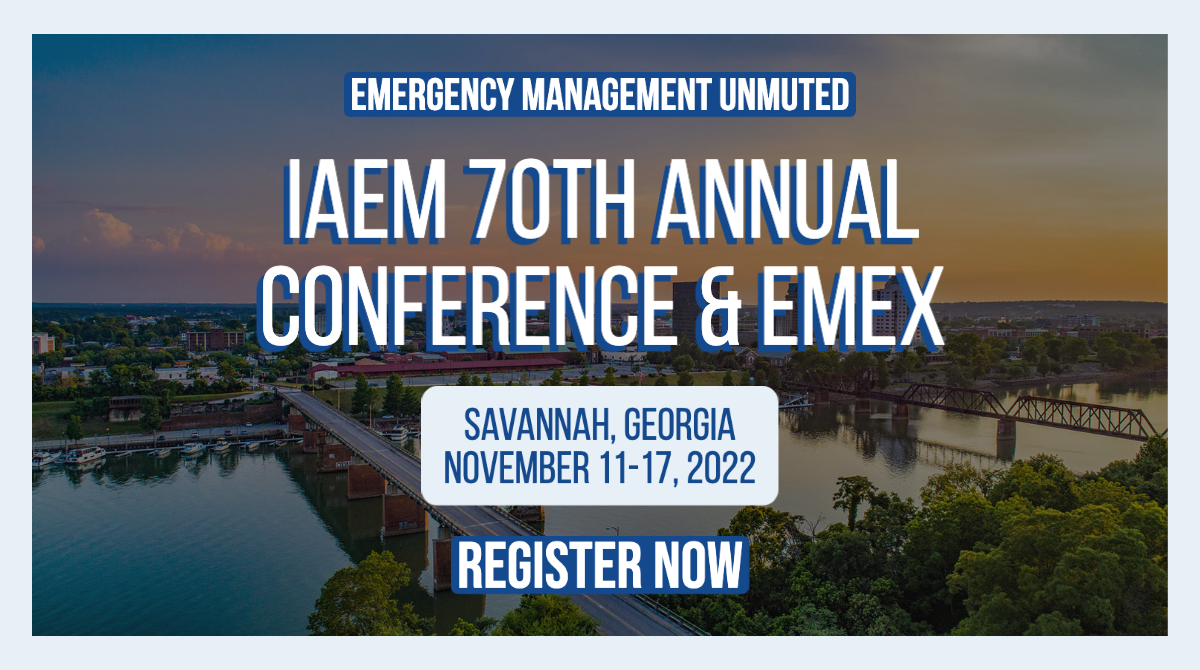 IAEM welcomes you to the 70th Annual Conference & EMEX, Nov. 11-17, 2022 in Savannah, Georgia. Hear from top-notch speakers and expand your network as you join other emergency management professionals at the premier event of the year for our profession. 
IAEM offers:
Early bird discounts of up to $120 off registration.
Free training from EMI, NDPTC, TEEX, and the Naval Postgraduate School CHDS Leadership Symposium. 
More pre/post-conference training offered by the IAEM-USA Healthcare, K-12 and Universities and Colleges Caucuses, IAEM Certification Course & Exam, and Ascenttra's Advanced Exercise Design Course and a course hosted by OASIS, "Mobile Alerting: Reach 90% of the Endangered Population in 7 Seconds."
A Student & Emerging Professionals Program.
EMEX – IAEM's Expo where you will find the latest technological advances and disaster preparedness suppliers under one roof
Plus numerous networking opportunities.
Review the detailed program and register today.
If your funds are not available yet, IAEM offers the option to  "Register Now, Pay Later" and still secure your spot in highly sought-after training courses both pre- and post-conference. 
More information is available on our conference website.