IAEM Student Chapter
Millersville Chapter
Mission
The mission of International Association of Emergency Managers (IAEM) is to serve its members by providing information, networking and professional opportunities, and to advance the emergency management profession.
Today, IAEM continues to drive the development of the profession of emergency management through its promotion of the Principles of Emergency Management, Certified Emergency Manager (CEM®) Program and IAEM Scholarship Program. The Student Council now has chapters at universities around the world and works to engage with future professionals as they choose their career paths.
To Join the IAEM Millersville University Student Chapter:
1. Search for the International Association of Emergency Managers using Get Involved (https://getinvolved.millersville.edu/). 
2. Click "Join Organization"
3. Join us online or in person on campus on the designated Wednesday each month during the fall and spring semester at 8:30pm.  Instructions on how to join these meetings can be found below.
To Join the National IAEM:
1. Go to the "Join IAEM" portion of the IAEM Website. Click here
2. Click "Join Online Today!"
3. Fill out the required information. Student membership costs $40 per year.
Attending the Meetings
Meetings TBA

A Zoom link will be posted soon which will be accessible during the planned meeting times
Local IAEM Chapter at Millersville University
2021-2022 Local Chapter Officers:
| | | |
| --- | --- | --- |
| Position | Name | E-Mail |
| President | Cameron Gonteski | cdgontes@millersville.edu |
| Vice President | Wyatt Peters | wmpeters@millersville.edu |
| Second Vice President | Alanna Bezas | albezas@millersville.edu |
| Secretary | Michael Skros | mpskros@millersville.edu |
| Treasurer | Ryan Knox | rcknox@millersville.edu |
Monthly Meetings:
Meetings for the local chapter are typically held online and in person on campus on designated Mondays or Wednesdays each month during the fall and spring semesters. Meetings will be virtual this year with a time and date TBA. These meetings are usually accompanied by a blend of guest speakers in the Emergency Management field, round-table discussions, and information on upcoming hands-on training exercises or educational opportunities. Round-table discussions will consist of topics such as "What went right/wrong in a recent disaster & how could we improve?" to the ongoing Education vs. Experience debate many students face upon graduation. The MU-IAEM chapter is open to all graduate and undergraduate students with an interest in learning more about preparedness and the emergency management field.
2014 IAEM Student Chapter of the Year:
On the heels of a successful year in the chapter's history thanks to a plethora of esteemed Emergency Management speakers and many other accomplishments, the chapter received the well-regarded IAEM 2014 "Student Chapter of the Year" award. Under the supervision of Dr. Duane Hagelgans, numerous initiatives related to the club were implemented including upgrading from the existing Blackboard virtual classroom platform to a more user-friendly Google Hangouts setup. Other improvements have been to substitute some of the outside speakers for a more engaging "Open Forum" a Town-hall meeting of sorts in which those in attendance can openly discuss issues related to Emergency Management and come up with practical solutions.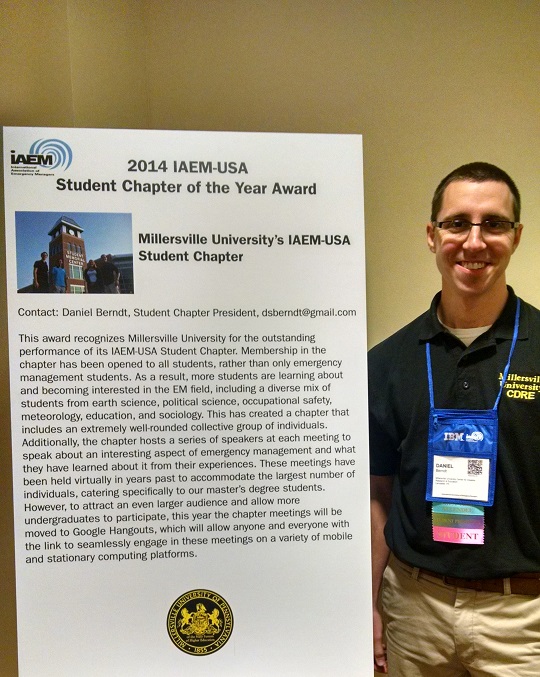 (2014-2015 MU-IAEM Chapter President Daniel Berndt accepts
the Chapter of the Year award at the IAEM Conference in San Antonio)