Dr. Kathryn R. Allen
Organic / Polymer Chemistry, Assistant Professor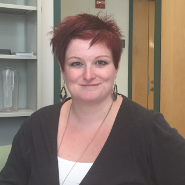 Office Hours
M: 1:00 - 2:00 pm
T: 11:00 - 1:00 pm
W: 3:00 - 5:00 pm
Comments: Spring 2022

Education
B.S. Chemistry - Juniata College, 2004
Ph.D. Organic Chemistry - Columbia University, 2010
Postdoctoral Fellow - University of Southern California, 2012
Courses Taught
Chemistry! Better Things for Better Living (Chem 101)
General, Organic and Biochemistry II (Chem 104)
Introductory Chemistry I and II (Chem 111 and 112)
Organic Chemistry I (CHEM 231)
A Short Course in Organic Chemistry (Chem 235)
History of Chemistry (Chem 372)
Polymer Chemistry I and II (Chem 381 and 482)
Course Materials
Research Interests
Dr. Allen's research interests fall in the area of polymer chemistry, in particular environmental remediation and renewable resources. Presently, the group is focusing upon plastics. While plastics are generally condemned for their destruction of the natural environment, Dr. Allen's group hopes to create biodegradable polymers that are able to replace traditional LDPE and HDPE in plastic bottles and grocery bags. Polyhydroxyalkanoates are therefore being modified with aryl substituents and H-bond donors and acceptors. These modifications to the polymers are intended to increase the tensile strength of the otherwise very brittle systems, as well as improve their thermal properties. Of particular interest is what the effect of each modification will be upon the polymer viscosity and elasticity.
About Dr. Kathryn R. Allen
Dr. Allen joined the Chemistry Department as a tenure-track faculty member in August 2015. At Columbia University, Dr. Allen worked to compatibilize macromolecules with small molecule materials. At USC, Dr. Allen was the recipient of the WiSE Merit award for excellence in postdoctoral research for her work on BODIPY dyes. After working as a visiting assistant professor for the 2014-2015 academic year at Millersville University, Dr. Allen was offered the tenure-track position in polymer chemistry.
Millersville Committees & Outreach
Academic Standards
APSCUF — Student/Faculty Committee
Women in Mathematics and Science
Science Olympiad
Department Social Committee