MARAUDER DINING DECLINING BALANCE OPTIONS
Marauder Dining Declining Balance Options
 Marauder Dining Declining Balance Options puts you in charge of your money.  Pay as you go Dining in our Upper Deck Dining Hall and any of our Retail Locations. A valid University Photo ID card is required to be admitted to a dining facility.  Registered students who have chosen a specific Declining Balance Marauder Dining Option will have their ID card magnetically encoded for the appropriate plan.
The ID card is non-transferable and as such guarantees the use only by the card owner. Use or attempted use by anyone other than the owner constitutes a violation of the Student Code of Conduct and is subject to University disciplinary action.
The ID card should be treated as a credit card. If it is lost, immediate contact should be made to the ID Office in the lobby of the Boyer Building at campus ext. 7008.
More information on ID requirements can be found in ID Card Requirements (pdf)
Marauder Dining Options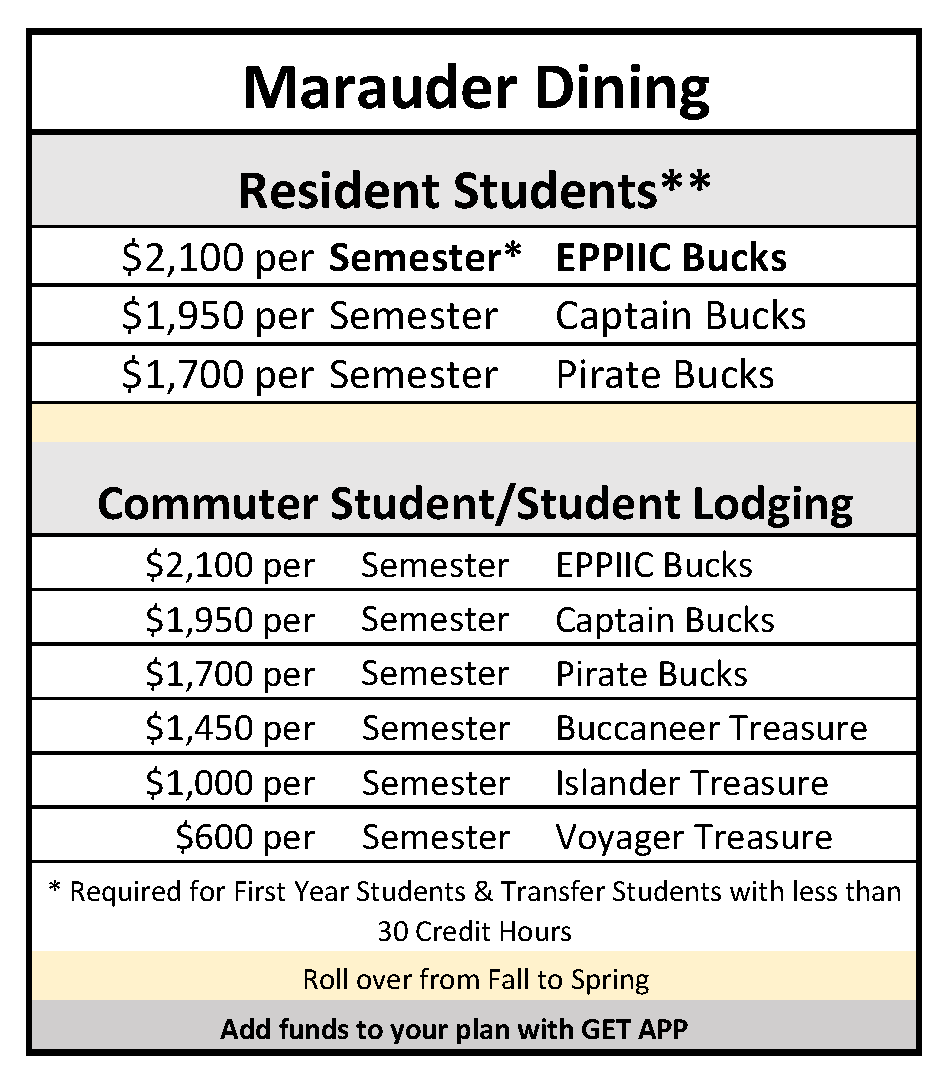 Declining Balance Funds DO NOT carry over from Year to Year
BENEFITS OF THE DECLINING BALANCE DINING OPTION
PAY AS YOU GO

NO MEAL ZONES
NO LOST MEALS
ROLL OVER FROM FALL TO SPRING
ADD $50 TO MEAL OPTION ANY TIME
UPPER DECK - 12% DISCOUNT OFF MU ID RATE
Changes and Additions to Marauder Dining Level
Resident Students:
First-year resident students and transfer students with less than 30 credits are required to have a $2,100 Marauder Dining Level.
All students will be automatically enrolled in the $2,100 Marauder Dining Level
Upperclass students residing in University residence halls are required to have a Marauder Dining Level.
Upperclass students may make changes to the following options:
$1,950 Marauder Dining Level
$1,700 Marauder Dining Level
All changes must be made online prior to midnight on Friday before classes start.  NO CHANGES will be permitted after classes begin.
 Add/Change Marauder DINING Level
Resident Student Teachers and Resident Co-Ops who plan to reduce to a lower Marauder Dining Level must contact Heather Keck at 717-871-5651
Commuter and Graduate Students can follow the instructions above to add a Marauder Dining Level. After your Declining Balance Level has been added, go to your Semester Account to view your new balance.
View Marauder Dining Level Pricing and Details