INTRODUCING A NEW MASTERS PROGRAM FOR EMERGENCY CERTIFIED EDUCATORS
M.Ed Assessment, Curriculum and Teaching Certification
The fully online Assessment, Curriculum and Teaching (ACTE) Certification program provides a path for certification in selected content areas for emergency certified teachers who are currently working in classrooms as the teacher of record.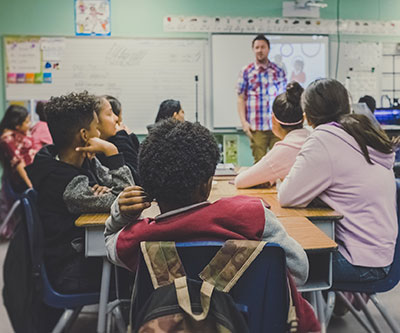 Program Highlights
100% Online Program
Earn a degree in less than a year
Flexible course offerings
Accelerated academic semesters
Who Should Consider This Program?
Are you seeking certification in Math 7-12, Social Studies 7-12, English 7-12 or a Science 7-12 (Biology, Chemistry, Earth & Space Science, and/or Physics)?
Do you possess an emergency certification and are you working as the teacher of record in your desired content area?
Do you possess an undergraduate and/or graduate degree that is relevant to your desired content area?
Have you passed the Praxis test(s) for certification in your desired content area? (Or within 6 credits of admissions?)
Request More Information Apply Now
---
The program will focus on 7-12 certification in Science, Social Studies, English, and Math and is designed to support the practicing beginning teacher through course work and targeted supervision. Designed as an 11-month, cohort-based program, the courses scaffold students through intentional, online courses that meet standards for teacher competencies from the Pennsylvania Department of Education. In addition, the program relies upon a mix of in-person and virtual supervision to support students through their field experiences and student teaching.
Since students are not limited by geography when enrolling in the program, cohorts will offer a diverse perspective of secondary instruction across the Commonwealth. To be accepted, candidates must hold an undergraduate degree that is relevant to their anticipated certification area and must have passed all related Praxis tests.
PROGRAM COURSES
M.ED. PROFESSIONAL CORE REQUIREMENTS:
EDFN 545 Advanced Educational Psychology (Spring 2023, Summer 1 and 2 2023, Fall 2023)
EDFN 601 Methods of Research (Spring 2023, Summer 1 and 2 2023, Fall 2023)
EDFN 590 Foundations of Education (Spring 2023, Summer 1 2023, Fall 2023)

ACTE CORE COURSES:                                       
ACTE 630 Current Technology for Online Instruction (Summer 1 2023, Fall 2023)
ACTE 625 Technology and Assessment for Learning (Summer 1 2023, Fall 2023)   
CONCENTRATION IN INCLUSIVE PRACTICES:                                       
EDSE 660 Teaching and Learning in Secondary Classrooms
EDSE 540 Content Literacy in Diverse Classrooms (Fall 2023)
ACTE 640 Universal Design for Learning (Summer 3 2023)
CHOOSE ONE OF THE FOLLOWING:                                      
EDSE 643 Disciplinary Thinking
Content Area Elective
CAPSTONE EXPERIENCE:
EDFN 561 Student Teaching in Secondary Classrooms