Internship Spotlights
Alyssa Daniels - BA Sociology - Criminology Option
Internship:  YWCA in Lancaster, PA
Alyssa is a criminology and sociology major with a minor in Women's Gender & Sexuality Studies and is graduating in May 2023.
Alyssa interned with the YWCA in Lancaster for the Sexual Assault Prevention and Counseling Center (SAPCC).  Her areas of interest are power-based violence and victim advocacy, which aligns with the YWCA's mission.
Alyssa's main tasks and responsibilities?  
Co-teach and lesson plan for empowerment and prevention programs.
Attend community outreach opportunities.
Volunteer on the SAPCC hotline.
Organizing supplies for future events and filing client documents
What challenges were you faced with?  It was difficult being an advocate on the hotline:  vicarious trauma is prevalent in this type of field, and it's hard not to carry people's troubles with you when your shift is over.  
What was exciting for you in your internship?  I was excited to work with the Care for Kids program - I learned how to interact with children and teach them important concepts like consent, which they can build on later.
What are some tips or advise you have for other undergraduate students looking/applying for an internship?  Learn what your areas of interest are and use the Handshake platform to search for internships that best suite you.  Also, speak with your professors and advisors for advice.
During my sophomore review, I stated that I was interested in victim advocacy, yet I had no experience in the field.  Interning at the YWCA solidified that I have a passion for victim advocacy, and I have begun applying for jobs in the field.
SUCCESS STORIES
Jordan Traut, Major (English and Anthropology) - Rugby News Service in Hirakata, Japan
"The best advice I ever got from a teacher is to apply for the things that seem impossible because 99% of your strongest competition will also think they don't have a chance and suddenly your chances are 100% better".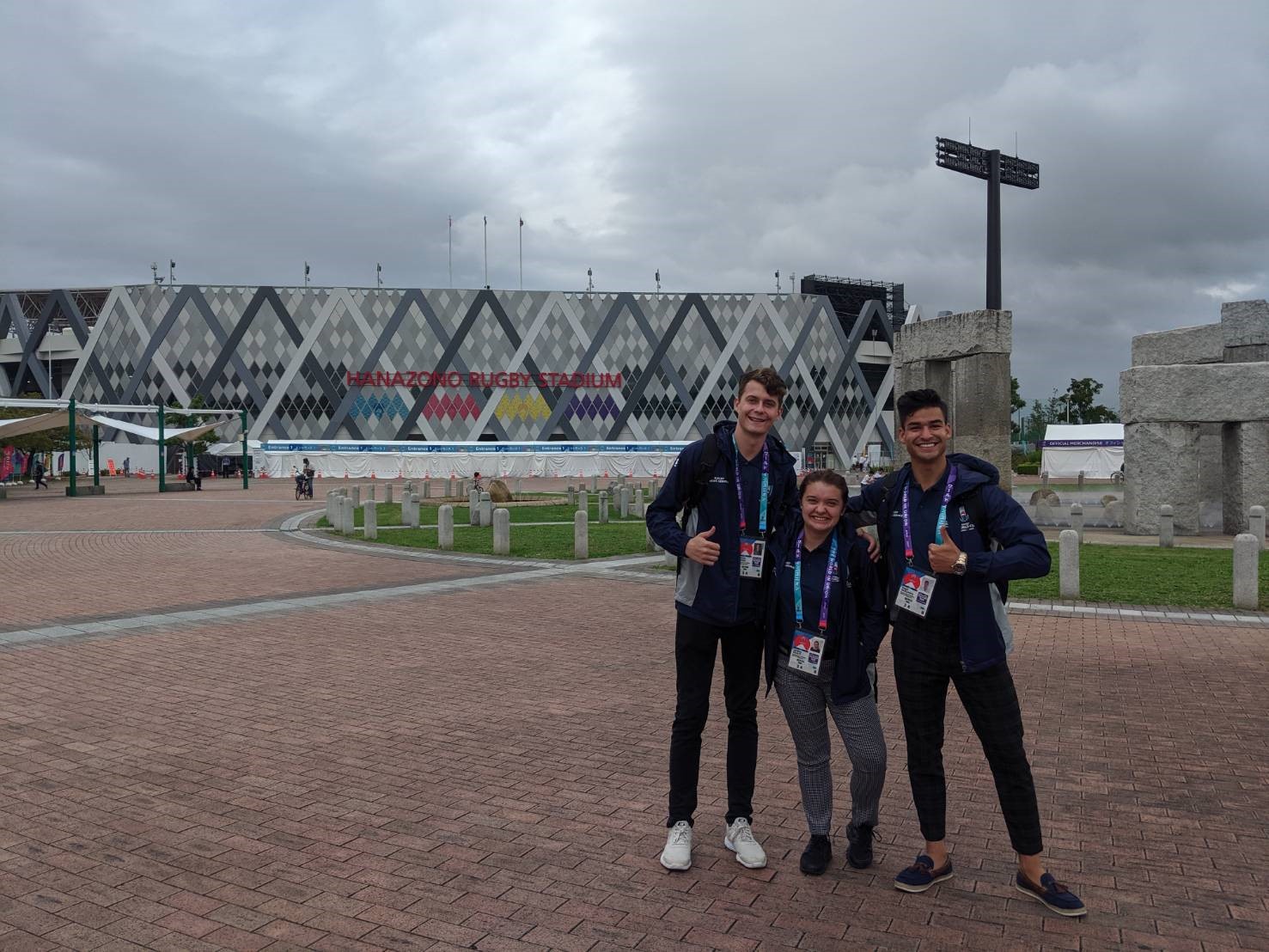 Main responsibilities of the internship:  Attending pre-game and post-game conferences with the coaches, watching the games I was assigned to from the press section, creating questions to ask players in the media mixed zone, and then recording and publishing their quotes on a secured website for the international media to select and publish on their own platforms. Being an English and an Anthropology major, the most unexpectedly interesting part was seeing the different cultures interact with each other at the stadiums. Personalities really came out. I also loved my press pass, which allowed me to go "backstage" in the stadiums. The most difficult part was actually navigating the spaces as, often times, the only women working in the zones. It's an adjustment to not see someone who looks like you being represented and made me grateful for the office I work in now, which has great diversity. 
What academic courses prepared you for your internship? Dr. Jakubiak's New Dimensions to World Literature course and African American Literature course reinforced the significance of representing others' words and language appropriately to ensure everyone is seen and heard. Dr. Jakubiak also invited guest authors to conference call with our classes where we prepared questions to ask them about their work and experience. I used those skills to come up with the question I would ask the players, sometimes on the spot. 
Advice for students seeking internships:  I would give them the same advice I was given a long time ago and that ran through my mind when I saw how popular the internship seemed to be with the other students at my university in Japan: so many people are intimidated by the thought of competition that they don't try. Trying already makes you the strongest candidate in the pool. If you dream about something, go for it. You'll never be worse off for trying. You'll always be worse off thinking about all the chances you didn't take. 
Any other information you would like to share?  The university I studied at in Japan wrote a few articles about me, one was in Japanese so I can't read it. I gave it to my host parents. However, I recently found the English version they are advertising to prospective students. That is really exciting!