Summer Photo Contest
Summer Photo Contest
Experiential Learning and Career Management hosts a photo contest to showcase your summer employment experience as an intern, trainee, volunteer or part-time summer employee!  Share your experiences and have a chance to win a prize such as an Amazon Fire Stick or ECHO Dot.  We are looking for meaningful testimonials from students to promote our programs and services with the Millersville University community.  Submit your photo and description by FRIDAY, August 23, 2019. 
Submit up to three photographs in high resolution format by emailing them to: careers@millersville.edu 
List in subject line:  Photo contest, your last name and the company/agency/non-profit organization. 
In the email message, include the following information: Your full name, academic major, class level, your cell phone number and a brief description (100 words or less) of your amazing experience. 
By entering this contest, you grant Millersville University the right to publish, use, reproduce and/or publicly display your photographs and written testimonial on MU's website, social networking sites, and in any of its publications.
Entry Rules/Eligibility
Students must be currently enrolled as a Millersville University student when submitting an entry.
Your academic internship was registered for credits, or your volunteer assignment or part-time/full-time job must have occurred between May 13, 2019, and August 23, 2019.
Be mindful of the specific policies and privacy laws of your workplace and industry. Our expectation is that Millersville University students abide by all worksite rules for professional conduct in their respective industries and careers.  For example, many education and human service related employers do not allow pictures to be taken of the clients because of confidentiality matters.  Some manufacturers do not allow pictures to be taken inside the plant due to proprietary reasons.  Please check with your employer supervisor about guidelines related to taking any pictures.  

Get creative. We are looking for a picture of you that captures a wonderful experiential learning moment, whether it is a shot of you on the production line with your site supervisor, company president, assisting/presenting or preparing for an organizational event, the photograph is meant to be representative of something you have done or are doing so have fun with it.  Students may submit up to three photographs.  Ideally, YOU should be in the picture along with something representing your internship - even if it just you outside the building next to the logo of the organization (because you cannot take pictures of clients or the production line - i.e. confidentiality and propriety issues). 
Please also adhere to the following guidelines:  Photos must be submitted in JPEG format, with a resolution of at least 2400 x 1600.  Please do not download photographs from Facebook or other social media sites since they are usually compressed.  Save your photos in the following format: FirstName_LastName_ImageTitle
Write a description 100 words or less and an interesting caption as well. Explain in your best writing style why your experience is awesome. Explain the benefits of your internship/volunteer/job (experience, salary, job offers, special perks, networking, etc.), and why you would recommend an internship or volunteering or the job to other MU students.  The description is part of the entry and will be judged.  ELCM retains the right to edit entries for proper grammar and spelling.
SUBMISSION DEADLINE:  FRIDAY, August 23, 2019
2019 Summer Photo Contest Winners
ELCM had a wonderful pool of photo submissions. Two students were selected as winners of the summer photo contest.  Thank YOU to all that submitted photos!
"This summer I was given the opportunity to intern at the Philadelphia Zoo, the first zoo in America, and one of the best conservation facilities in the nation. During this internship I was able to educate guests about different animal species, as well as work with the nutrition department to prepare a part of the animals' diets. I learned a lot about the Association of Zoos and Aquariums and was given the chance to meet with zoo keepers, and even the CEO of the Zoo, Vikram Dewan. The Philadelphia Zoo is a nonprofit organization which has one goal, and that is to conserve species. The zoo does this by creating bonds between guests and animals, and educating people about how they can help save these species. I love the work that the Philadelphia Zoo does and I'm glad to have had the opportunity to intern there". 
Mikayla Xander, Junior.  Biology, Animal Behavior option; interned at the Philadelphia Zoo.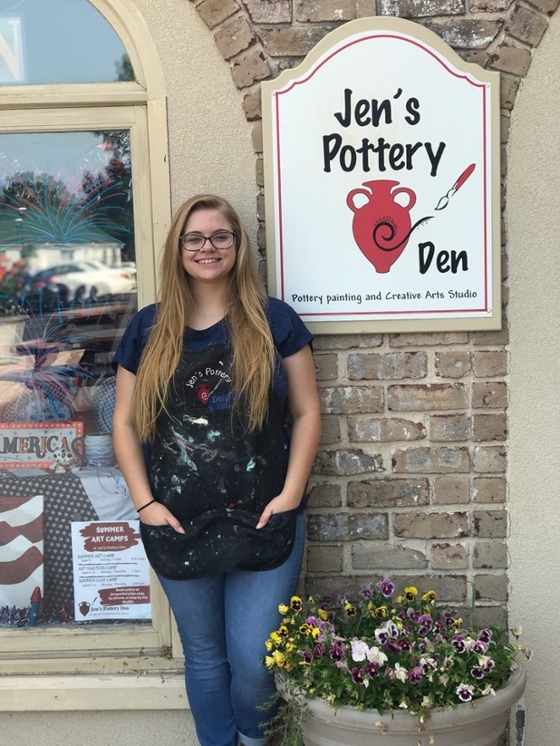 "Since January, I have been planning a summer art camp that lasts for 7 weeks out of the summer, with each week having a new group of kids. I have them for 2.5 hours Monday through Friday, with about 4 fun projects each day! I've come up with all the projects, created all the samples, promoted the camp through social media and flyers, and now I'm in charge of running the camp. I have dramatically improved my leadership and marketing skills since starting this program and now have a better idea of what I want to do after graduation".
Kirston Stover, Senior.  Business Administration, Marketing option; traineeship with Jen's Pottery Den.