Au Pair Weekend Institute

The English Language Institute (ELI) at Millersville University is excited to welcome au pairs to our beautiful campus for the Au Pair Weekend Institute. This uniquely fascinating course gives au pairs the opportunity to learn about Amish and U.S. culture in Lancaster County Pennsylvania.
Through 36 hours of coursework, participants will earn the equivalent of 3 credits needed to satisfy the educational requirements of the U.S. Department of State in a weekend-long program running from January 10th-12th, 2020*. The combination of classroom discussions, fieldtrips, self-reflection, and other activities provide a holistic approach to immersion in this unique culture found in the Lancaster County.
Sign up by December 20 for FREE Registration. Registration cost of $25 if applying after the 20th.
For more information, please contact the English Language Institute by reaching out to Kristin Thomson at Kristin.Thomson@millersville.edu or 717-871-4042.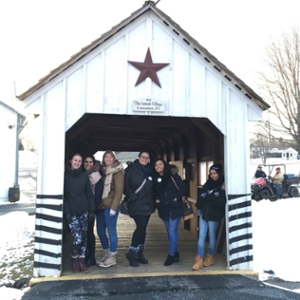 Millersville University is located in picturesque Lancaster County, Pennsylvania, an area home to the Amish and Mennonite communities. The settlements here are some of the oldest in all of America and are rich in history and culture. Throughout this region, visitors can encounter buggy rides on the streets, attractions, tours, and foods special to the Amish.
Take the chance and immerse yourself in this culture for one unforgettable weekend this coming January!
Course Cost
Registration: FREE if applying by December 20, $25 if applying after this date
Tuition: $275
Materials and excursions: $75
Total cost: $350 ($375 if applying after December 20th)

Meals & Housing
Some meals are included in the cost of the program and participants should list any dietary restrictions or food allergies on their registration form. Students will be responsible for all other meals not included in the program cost.
Meals Provided
Dinner Friday
Dinner Saturday
Lunch Sunday
At this time, we cannot offer any housing. If you need assistance finding accommodations you may contact our office. 

Program Schedule
Schedule could be subject to slight changes. Final schedule will be sent to participants by January 6. 
*In the event of cancellation due to extreme weather conditions, this program will run the weekend of January 24-26, 2020.
Pre-Work

Friday

Saturday

Sunday

Post-Work

Become Familiar with Lancaster and Amish Country

2:00-2:30PM Arrival and Check-In

2:30-9:00PM Class

9:00AM Morning Class

Learning Outside the Classroom: Lancaster County Cultural Immersion

9:00AM-5:00PM Class

5:00PM Departure

Reflection on Experiences